Download Minecraft PE 1.5 apk (full version)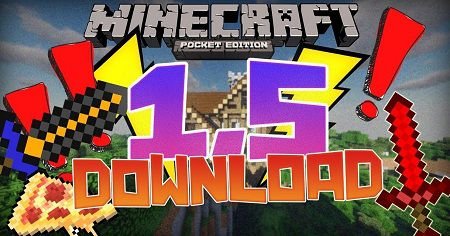 After the first release of the full version of Minecraft PE 1.5.0 developers continue to release a new beta version of Minecraft Pocket Edition Aquatic Update. The release of Minecraft PE 1.4, which took place on May 16, 2018 was just the first part of a large upgrade for ocean in the cube universe. At this moment, active development of the underwater world in Minecraft continues.
Some words about MCPE 1.5 Update
You probably have a question?
- Why did the new beta version of Minecraft PE 1.5 come out, if there was already a release of the full version of Minecraft PE 1.4?!?
Everything is quite simple. Mojang team released Minecraft Bedrock 1.4, which is the first part of MCPE 1.4.0 Update
Now the second stage of Minecraft 1.5 Aquatic Update has been tested. Developers for some reason decided to divide MCPE "Aquatic Update" into 2 parts.
The first part of this update has already been released, now we are waiting for the next part of Minecraft Aquatic Update with new cool content. By the way, in the 1st beta of the second stage of beta testing MCPE 1.5 added turtles and this 1st beta of the game you can get from our site for free.
This page will show all the latest versions of Minecraft 1.5, so add this page to your bookmarks and download the actual beta of the game immediately after its release.
Minecraft PE 1.5 Features [Water Aquatic : Part 2]
In the 1st beta version of Minecraft PE 1.5.0.4 we met turtles in the game. Also, in addition to turtles, other cool features have been added to the game, which you will read further!
Columns of bubbles
Sea turtle
Eggs for sea turtle
Turtle's Shields
Turtle's Shells
Turtle's Potions
Changes in MCPE 1.5. for Android
Updated background in the main menu
Coral block do not perish if one of the sides block touches the water
New kelp textures on the top part
New cooked fish textures
FOV is reduced from 70 to 60, you can set it in video settings

Download Minecraft PE 1.5.1 APK MOD
Download Minecraft PE 1.5 apk (full version)