Minecraft PE 1.16.210.55 for Android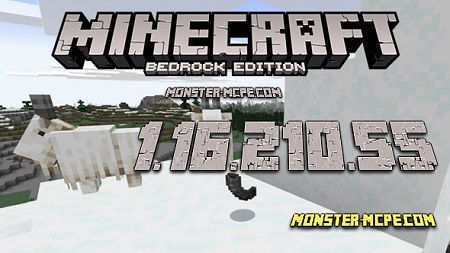 As the developers at Mojang have started working hard this year to create and improve the new content base for the upcoming Caves and Cliffs update, their focus has been on fixing bugs and tweaking certain game aspects of existing updates. That is why today Mojang released a new
test update
called
Minecraft PE 1.16.210.55
. This is a free update for Android users that also supports Xbox Live. In the new test update, Mojang fixed existing bugs related to the gameplay, for example, the animation of the Ender Dragon, a bug that appeared when changing the language, and some other minor bugs related to the animation of other mobs.
Also, new content with mountain goats, powder snow, and more! All this and much more in this small test update for Minecraft PE 1.16.210.55. Let's find out more about what awaits us in the new update below.
Features of the test update for Minecraft PE 1.16.210.55
Mojang studio developers continue to release small beta versions of the upcoming update. This time, in Minecraft Pocket Edition 1.16.210.55, Mojang paid great attention to fixing important bugs of which, in general, there are not so many. This is a good sign as it has made the game much more stable and comfortable.
In summary, we will consider content that is new to us, which recently Mojang began to gradually introduce into the Minecraft world.
The first is of course Goats. These are not simple goats, in the upcoming update, and even now, players can discover new inhabitants of the Minecraft world, namely mountain goats. Traveling to mountain locations in Minecraft PE 1.16.210.55, the player can meet a mountain goat. This mob lives only in these biomes. The mountain goat, unlike other game creatures, can jump high enough that allows him to easily overcome various obstacles. Due to this skill, he manages to climb almost any point in the mountains and feel comfortable moving along steep rocks.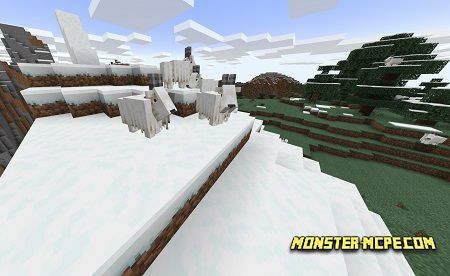 By using some wheat in Minecraft PE 1.16.210.55, players can breed mountain goats. And with the help of a leash, they can be tied and dragged along. After death, only a goat's horn can fall from this mob, but we draw your attention to the fact that most often this happens only if it collided with a solid block, for example, trees or a snowy wall. Most often, after death, they simply drop meat and experience. We would like to note that with the help of a goat's horn, you can make a sound that is reproduced when the villagers raid the village.
The next one is a no less interesting thing, namely a new block, unique in its properties, which is called Powder Snow. From now on, with the release of Minecraft Pocket Edition 1.16.210.55, you should be careful in snowy biomes. After all, at any moment you can stumble upon a new trap called powder snow. The texture of this block is only slightly different from the usual block of snow, but the player can fall into the powder snow. And at the same time, the player's movement slows down, and the height of his jump also decreases.
We also draw your attention to the fact that if you stay in this block for a long time, when you fell into it, the Freezing effect will begin, which will cause minor damage to the player. Along with the effect, a snow fog will begin to appear, which will cover the player's view.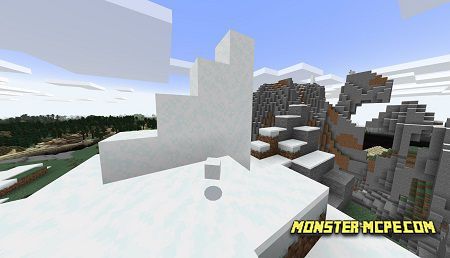 If you wear leather boots, then you can walk with complete confidence through the powder snow in the new version of Minecraft PE 1.16.210.55, without fear of getting stuck in it and freezing to death.
A new generation of mountains deserves special attention in Minecraft PE 1.16.210.55. Previously, they looked like ordinary hills and were quite uninteresting, but now with the release of new beta updates, they look much more realistic, and the slopes have become much steeper and more dangerous, which cannot but please fans of extreme and dangers.
Another aspect of the game that cannot be ignored is of course the sounds! As you know in the version of the Minecraft game for PC, namely in the Java Edition, players can customize all game sounds separately, which is very convenient. Now, this opportunity is also available to players in Minecraft Bedrock 1.16.210.55. In total, ten sound options are available in the Minecraft settings, namely the sounds of the environment, the player, peaceful creatures, hostile mobs, other players, blocks, and more.
Now the most important thing is fixes!
As already mentioned at the beginning of the article, in general, there were not so many fixes, but some of them could very much interfere with a comfortable game, namely:
1. Fixed a bug related to the animation of the Ender Dragon;
2. Fixed bugs when changing the language in the game;
3. Fixed bugs related to the animation of other mobs!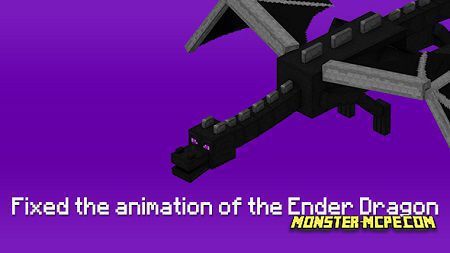 By the way, now many players and fans of the Minecraft world are increasingly asking the question, when will we still see a full beta update for
Caves and Cliffs Minecraft PE 1.17
? We want to please you, the developers of the Mojang studio have announced to the Minecraft community that the first innovations will be added next week.
Minecraft PE 1.16.210.55 for Android