Minecraft 1.16.0.51 for Android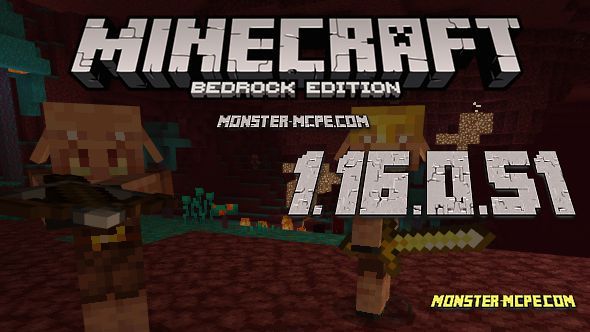 Dear fans and visitors of the Minecraft world, we are pleased to inform you about the release of the new version of Nether Update, and most importantly the long-awaited test version of
Minecraft for Android 1.16.0.51
. The long-awaited release of the first
test version
of the game for users of Android devices.
What will happen to Minecraft 1.15?
As you might have already guessed, unfortunately, Minecraft BE 1.15 updates will no longer be. The developers of the Mojang studio decided to start work on improving the performance of the Minecraft Nether Update version. All changes that were previously in Minecraft Bedrock Edition 1.15 were successfully transferred to the new test version of the game.
After half a year of waiting, we can all enjoy the new update and the long-awaited beta. After Minecon-2019, where the Mojang developers announced the upcoming Nether update to the players, the players had to wait about half a year and each next update only upset the players.
A more detailed description of
Nether Update
, you can find and read in the article that we published earlier. Let's take a look at the features of the new version of Minecraft Bedrock 1.16.0.51.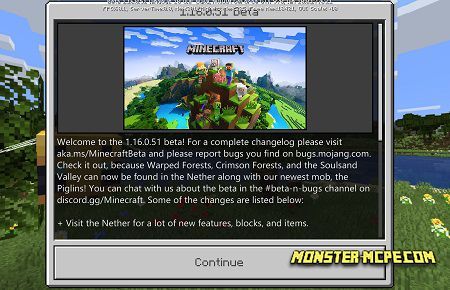 Issues with trading
After the release, trading with the Piglins was first checked. It turned out that in the first beta version of Minecraft Nether Update, the Piglins give the player just 3 items for gold. Which subjects?
1. Nether Wart block;
2. Obsidian;
3. Flint and Steel.
Based on this, we can conclude that the beta version of Minecraft has a fairly large number of flaws. We, as already many players, will hope that this bug will be fixed for the next update.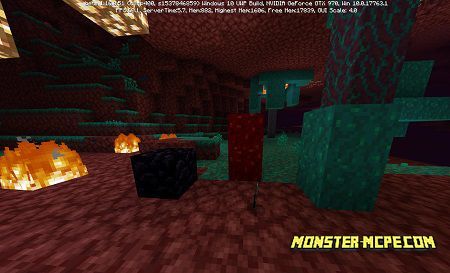 Wither skeleton
As soon as a player enters the Nether, he can notice groups of standing Piglin. But at some point, these hostile mobs start to run somewhere, if you follow them you will see how the Piglins, as a group, will attack Wither Skeleton. For those who don't know yet, the Piglins are very hostile to the Wither Skeleton.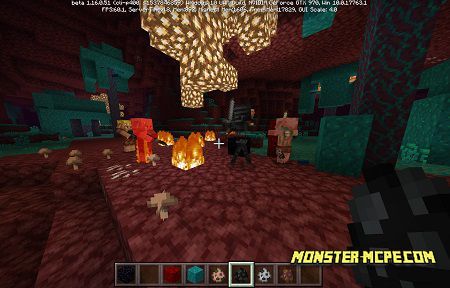 Despawn
What is Despawn? For those who do not know, this is when a hostile mob is standing in front of you and you begin to move away from it, it is removed from the game, this is done so that CPU resources would not be wasted for processing them just like that.
From now on, the probability of despawning in Minecraft PE is the same as in the Java version of the game Minecraft.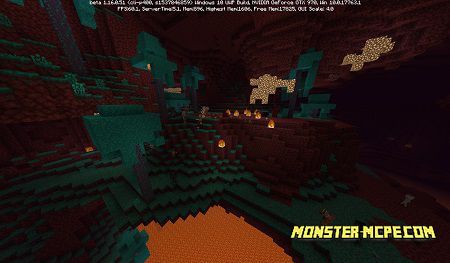 How does it work?
Let's look at this rule in points:
1. Hostile mobs will disappear from the Minecraft world if they are away from the player at a distance farther than 54 blocks;
2. Fish will disappear from the Minecraft world if they are located at a distance from the player further than 40 blocks;
3. In cases where hostile mobs are closer to the player than 54 blocks, but further than 32 blocks from the player, and do not receive damage, the probability of despawning is 1 in 800;
4. Renamed, tamed and other mobs will never disappear!
Netherite
What kind of material is this? For those who don't know, this is new and very rare material. Its feature is that it is more difficult to mine than diamonds and items that were created using this material will be stronger than items made from diamonds. Items from Netherite do not burn in fire and even lava. This material will not burn lava or fire, and will not drown in water. Increases damage. Increases the strength and durability of items. This is an amazing new material that opens up new opportunities for players in the world of Minecraft! In simple words, Netherite is very cool!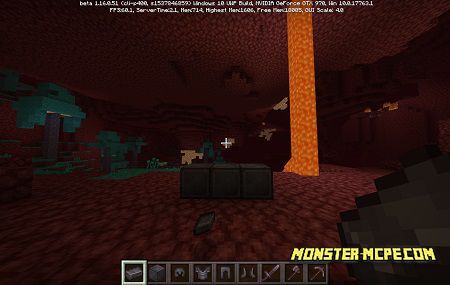 Bug fixes
In general, the developers of the Mojang studio fixed more than 100 different bugs and crashes. This time it is a very large number of bugs. Changes also include fixes that are associated with Java Parity.
Despite all the fixes that were previously in the game, a large number of new bugs were found in the first beta version. We ask you to be patient and wait until all this is fixed by the developers of the Mojang studio. Soon, a new beta version of Minecraft Pocket Edition will be released!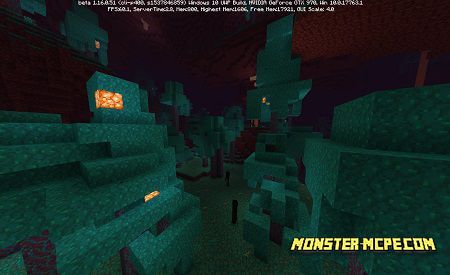 Minecraft 1.16.0.51 for Android