Minecraft 1.14.0.51 for Android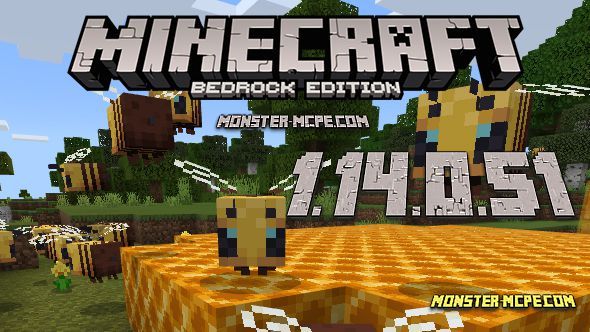 And now we finally waited for a new update to the
Minecraft Bedrock Edition 1.14.0.51
game. The new version of
Minecraft on Android
with a working Xbox Live. This time, the developers of the Mojang studio did a large amount of work and fixed a large number of errors and crashes. Meet the new Bee update for Minecraft.
What's new in the beta version of Minecraft BE 1.14.0.51?
The developers of the Mojang studio corrected a large number of various errors that arose in
previous updates
. Thanks to the joint work of developers and players, all bugs and crashes were fixed. In the new version of Minecraft Bedrock 1.14.0.51, everything works without any crashes and glitches. In this update, you will learn a lot about the bees, blocks and character editor.
First, we'll start with Blocks!
In the beta version of
Minecraft 1.14.0.51
, new honey blocks and honeycombs have appeared. Let's look at them in more detail.
Honey block!
Thanks to a new type of block, a new mechanic has been added to the Minecraft game due to which the mob or player can stick to it. When a player, or a mob, stands on a honey block, he cannot jump high, and his speed of movement also decreases. For a good jump, the player will need a special level 2 jump potion. This block will be useful in Redstone, as it can interact with pistons on the principle of mucus. But pay attention that the mucus is not attracted to the honey block. In general, the new block is a sticky block that players can also use to jump from a height. How? You should just glide over it. On earth, it works like mucus.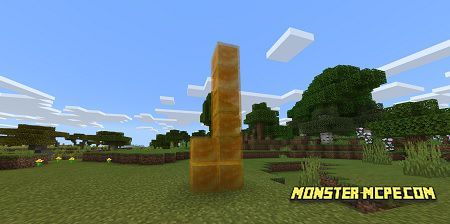 Honeycomb!
The new honeycomb block is a completely decorative block that players can use as decoration for any place. The block is very beautiful and unusual.
You can craft it using small honeycombs.
In the upcoming updates, half blocks and steps from the honeycomb block are expected. At the moment, you can use it only as decor.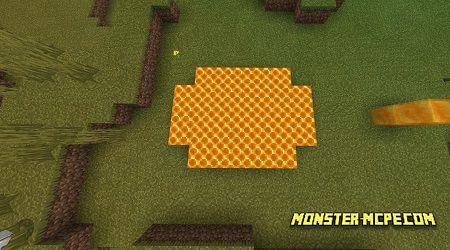 Mobs!
In the new Honey update, we got new cute and very smart mobs, bees! They have their own unique behavior that is inherent in them in real life. For example, take when they attack, after the bee stings you, it will lose its sting and die. Therefore, be careful with them, do not kill them simply as they are neutral towards the player and perform very important functions in the pollination of flowers. Thanks to them, we have honey that we will use in the future for crafting honey blocks. You can find them all over the world in their nests or hives.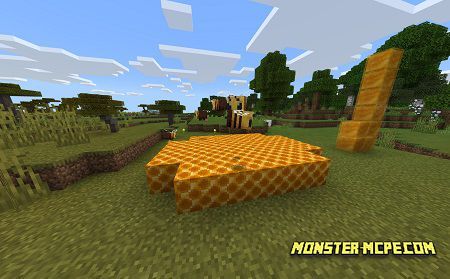 Character Editor!
The developers of the Mojang studio never stopped working on customizing the familiar and boring skins of the Minecraft world. Initially, they sold the best skins in Minecraft PE and just recently made it possible to create them yourself using the Character Editor.
For those who did not know, this is an editor with the help of which any player can use the special constructor to create his own unique skin using different parts of the body.
It's a fact that Character Editor is one of the key new features available in the Minecraft world: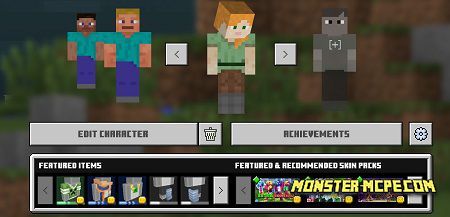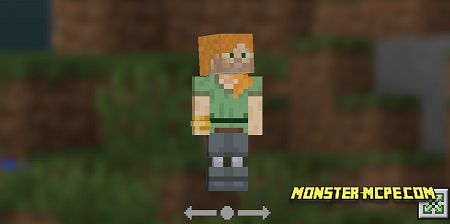 Have you heard about the new exclusive with Minecon 2019? Exclusive is a new cloak on which depicts the face of a creeper. Those players who were able to get it on time during the Minecon event will be able to put it on any of their skins and play Minecraft 1.14.0.51. This is a rather interesting and unique cloak which depicts the face of a creeper.
A short list of corrections:
1. Fixed a bug with entering the game from the Xbox account;
2. Fixed a bug with the display of the save world icon;
3. Fixed a bug with items that were previously stuck in the player's inventory and after which it was not possible to get them out of there.
Minecraft 1.14.0.51 for Android