Minecraft 1.14.2.50 for Android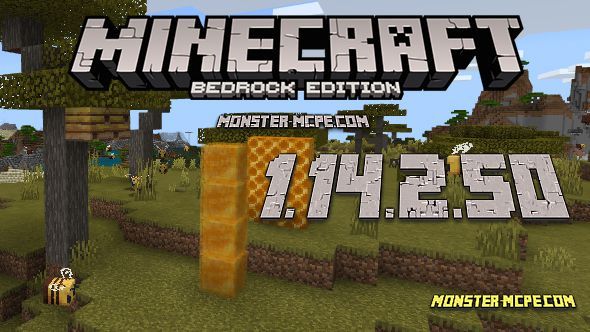 A new version of
Minecraft Bedrock 1.14.2.50
for Android devices is available. An
update
that gives the world of Minecraft updated bees, beehives, objects, a character editor, a new bee jacket and much more.
What's new in Minecraft Bedrock Edition 1.14.2.50 update?
The new Minecraft BE 1.14.2.50 update adds many interesting features to the game, such as mobs, items, blocks, and much more. The new update also gets the updated name, now it's not just a Honey Update, but the Buzzing Bees update.
Many players still do not understand why this update was released, while others like it. Thus, dividing the Minecraft community into 2 groups, those who are for and those who are against.
The bees
These mobs are already known to every player and fan of the Minecraft world for their cute appearance and their amazing behavior. These new mobs complement and make the Minecraft world more interesting. Perform the same functions as in real life, namely the pollination of flowers and the production of honey that during the game, players will use to craft different items.
Honey can also be used not only as one of the tools for crafting honey items, but you can also just drink it to fill the character's hunger.
As previously mentioned, bees have improved behavior, which allows them to respond differently to different situations. Well-developed artificial intelligence will allow them to make the right decisions for them, at night, in the rain and when they are at risk.
At night, they sleep, during the rain, they hide in their hives.
Why bees? Because the developers want to draw the attention of all players in the Minecraft world to the fact that you need to protect nature and every living creature.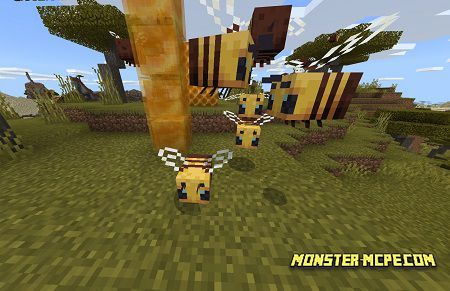 Hives
These are the blocks that serve as the home for these cute mobs. This is where bees produce honey that you can get.
There are two different types of hives in Minecraft.
The first is for Wild Bees. You can find them on trees in the forests. But be extremely careful, as wild bees will not give you honey without a fight. You can use smoke to get honey from the hive. But we draw your attention that the smoke should come from a fire that should be located under the hive/nest.
The second is the usual hive that is crafted by the player and needed so that you can breed bees and collect honey at any time convenient for you. Also, note that in this case, the bees will not attack you when you try to get honey from their hives.
Use flowers to breed these mobs.
Please note that from one hive you can collect about 5 bottles of honey.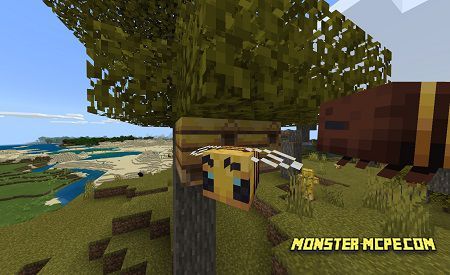 Items
One of the new items is honey. With this new item, players can craft other items, such as honey blocks. This block can interact with the pistons just like mucus, but not with the mucus itself.
A new feature of these blocks is that the player sticks to the honey blocks due to which his movement speed and jump height are reduced.
Another type of block is a honeycomb block. Players can use this block only as a decoration when creating any design. It is made using small honeycombs. Players can get them out of the wild hive.
Character Editor
With this feature in the game, players can easily modify their character and make his appearance unique. In the Minecraft PE 1.14.2.50 update, the character editor received another update. Now you can put a new bee jacket on your skin. The new jacket is available to any player absolutely free and has an amazing view.
This jacket will go well with the cloak that was recently presented at Minecon 2019 and was given to many players as a gift. It is also made in yellow style.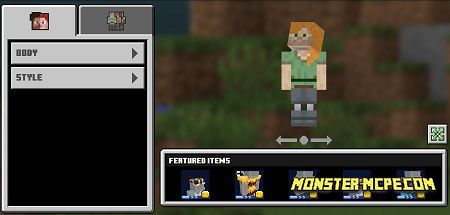 Recent changes in Minecraft 1.14.2.50
As everyone has already noticed, the developers of the Mojang studio with each update strive to finalize the version as good as possible and make new changes to the Minecraft world.
One of these changes is:
1. After a push with a honey block, the player will not bounce;
2. Bees will no longer fly into a burning hive.
Minecraft 1.14.2.50 for Android