Minecraft 1.14.25.1 for Android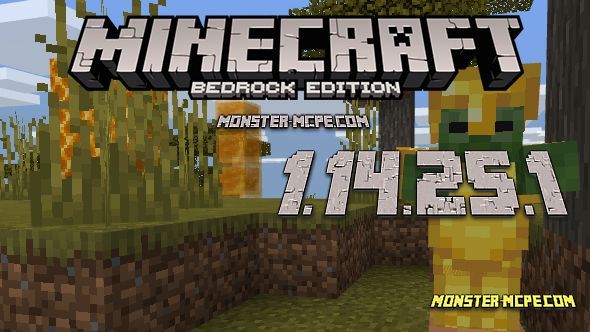 Oh, yes, Mojang Studio has finally presented us with the new full version of
Minecraft Bedrock Edition 1.14.25.1
! This version is already available to all players for all Android devices. Also, the new version supports Xbox Live. Get the new version and
updated
features of the Honey update, or as everyone began to call it the Buzzy Bees update. Favorite bees, honey blocks, honey, beehives, and new bug fixes.
What's new in Minecraft 1.14.25.1?
Earlier, a large number of new and exciting content was added to the Honey Update, which immediately won the hearts of millions of Minecraft players and fans. Added new stunning honey blocks, hives, mobs, new functionality, mechanics and much more. We want to note that today honey blocks are very popular among players who like to create new structures using them. Also, many players use them to create exciting new survival maps. These blocks can be seen in new maps such as the quest, parkour, and survival.
Let's remind all of us what this update is, and we will start with new cute mobs called Bees!
Mobs
We will start with the same mob that has become very popular among all fans of the Minecraft world — it's bees. In the game, these mobs are larger than in real life, but they have exactly the same mechanics, even if you look at their behavior they do the same thing as bees do in real life.
Earlier we said what they do, you can learn more by reading one of our previous articles.
Players can find them in places where there are flowers, greens, and trees. It is there that they begin their journey, namely, they collect nectar for the production of honey.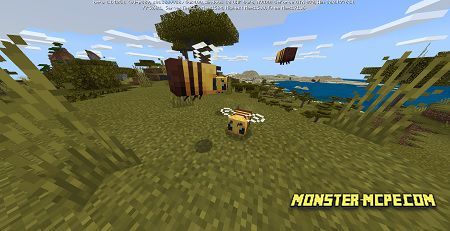 In general, they are very harmless and neutral towards all the players in the Minecraft world, but if you hurt them, and they will attack you with a swarm. We also draw attention to the fact that this action will affect both you and the bees badly, as the bees will sting you and die after that, and you will receive damage and the effect of poisoning. You will find more information about these cute mobs in our previous articles on Honey Update.
Blocks
In the new update, the developers of the Mojang studio introduced three new types of blocks to us, namely:
1. Honey (the most popular and functional);
2. Hives;
3. Bee nests.
Let's take a closer look at these three types of blocks with you in the new Minecraft BE 1.14.25.1 update.
Honey Block
This is a very unique and interesting block, which is a bit similar to its features to a block of mucus. But unlike others, it has the ability to stick to the players. The player standing on it will not be able to jump, and his speed of movement will be significantly reduced. It is also used to quickly and safely descend from a height by simply gliding over it.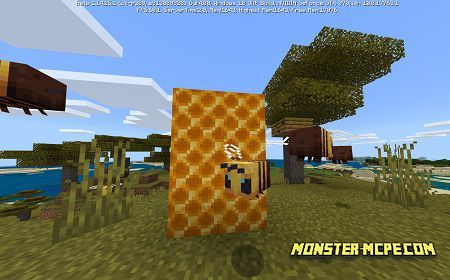 Bee Nests
This is the structure that is generated in the world of Minecraft 1.14.25.1. You can find it in the trees. This is where all the honey that the bees produced is located. It is extremely dangerous to approach and collect honey, as the bees will immediately attack you with a swarm. Only a bonfire can help you, it euthanizes these lovely creatures, but be sure that the bonfire will be located under the nest.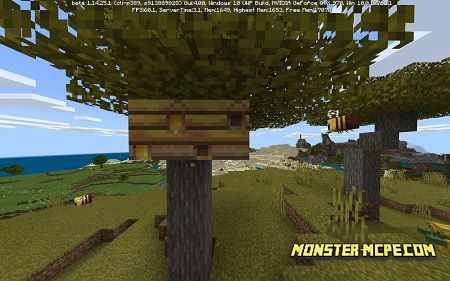 Hives
This type of house for bees is created by the player. This will help to quickly and safely collect honey right outside your home.
All you need is a pair of scissors and a silk touch. Use these two items to break the nest and get honeycombs and boards.
Other
The new version of
Minecraft Bedrock 1.14.25.1
has a few new fixes. In addition to the fixes, the developers have also optimized the gameplay, let's take a closer look at the following:
1. In general, about 8 bugs were fixed that caused errors and ultimately crash the game;
2. Increased FPS, improved performance;
3. Changed the texture of the bee nest and the hive;
4. The name of the bottle of honey has been changed.
Minecraft 1.14.25.1 for Android