Minecraft 1.14.1.3 for Android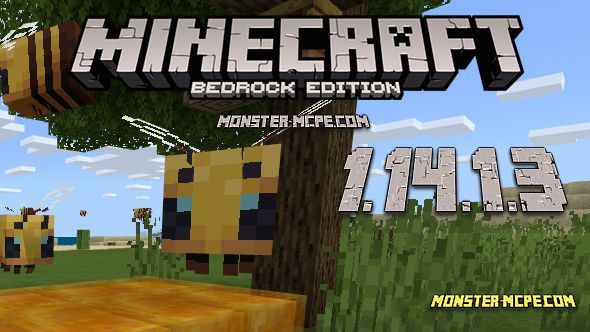 We are in a hurry to tell you about the new, and most importantly the full version of
Minecraft Bedrock Edition 1.14.1.3
. This
version
is already available for Android devices, and also supports Xbox Live. In this article, you will find new updates that concern bees, honeycombs, honey, beehives and much more.
What's new in the full version of Minecraft BE 1.14.1.3?
In the new version of Minecraft Bedrock Edition 1.14.1.3, the developers of the Mojang studio added new mobs, blocks, items and much more that will make the gameplay more comfortable and enjoyable. If earlier this update was called Honey, now it is often called the
Buzzing update
. All the innovations complement the gameplay of the Minecraft world very well. Work was also done on the customization of the character.
Bee News!
These new mobs, which have already won the hearts of millions of Minecraft players, have improved behavior and well-designed artificial intelligence. Bees in
Minecraft 1.14.1.3
are not similar to other previously existing ones in the game world.
These mobs have their own daily routine, collect pollen from flowers and then go to the hives where they make honey. They know how to react to various situations, including weather conditions, such as rain, or when night falls. Under these conditions, bees hide in hives. They also always act in a team, when the player attacks them, the bees will defend themselves by attacking the player with a swarm.
Find these cute mobs that can be found in those biomes where the flowers grow. In the Minecraft 1.14.1.3 update, they are always located near the hives.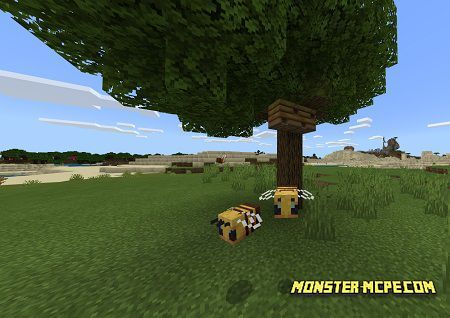 Honeycomb News!
In the new Minecraft BE 1.14.1.3 update, there are new honeycombs that a player can get from a wild hive. Everyone knows the difference between a wild hive and a neutral one. A wild hive in a place where wild bees live, which, unlike others, will be aggressive to the player if he, in turn, wants to collect honey from their nests. The neutral ones will allow you to collect honey from their hive if the player builds a hive for them.
What needs to be done to get honey from a wild hive?
1. Put a bonfire under the beehive. Smoke should be directed to the hive;
2. Wait about 10 seconds, after which you will see how the bees fall asleep from the smoke;
3. Use scissors and press them on the hive, after which there will be a drop of honeycomb.
As previously mentioned, you may not use a bonfire for this, but remember that the bees will attack you with a swarm. This is not a good idea, as a large number of bees can die from this. And we remind you that after a bee stings you, it loses its sting and dies.
The player needs honeycombs so that in the future you can create blocks of honeycombs. Most often they are used as decoration.
Honey News!
Everyone understands where there are bees there is always honey. In the new update, you have the opportunity to receive it.
The player can safely get honey using a bottle. All you need to do is press the bottle into the hive. The process is the same as with honeycombs.
Honey well restores hunger, so you can drink it to make up for a couple of units of hunger.
But one of its most important features is the creation of honey blocks.
The new block has very useful and interesting abilities, for example, it sticks to different creatures, including players. This feature makes it impossible for the player to jump or move quickly because the speed of movement will be reduced. Standing on such a block, a player can only climb a half block or use a special potion to jump.
The honey block mechanism is similar to mucus, but we draw your attention to the fact that the honey block cannot interact with mucus in any way. This can be useful for those who spend most of their time in construction.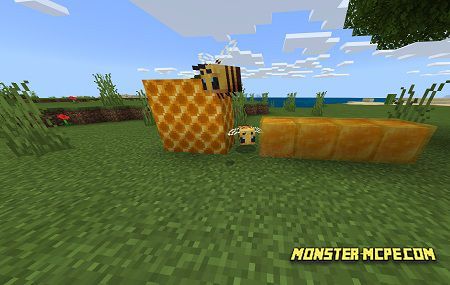 Hive News!
What is a hive? Surely you have already heard about this, but for those who do not know, this is home for the bees.
As previously mentioned, there are two different types of hives, one is a wild hive and the other is ordinary.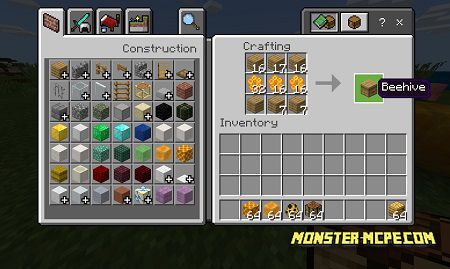 Wild hive belongs to wild bees, and the usual one that the player crafted belongs to neutral bees.
Players can create their own large apiaries and produce honey, as previously mentioned, the bees will not attack you when you collect honey from their hives.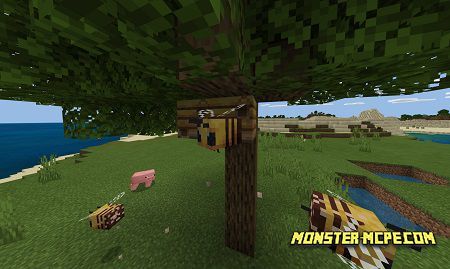 News:
There is a possibility that very soon in the game Minecraft PE, a new mob will be added which will be called a beekeeper. It will be both a new mob and a new profession. This is indicated by many factors such as, for example, the hive, which is in the inventory next to other blocks of professions in the creative game mode.
General changes!
The user interface has been slightly modified by the developers of the Mojang studio, the Japanese language has been added. Changed the location of the Login button on the main menu of the game. Fixed a large number of bugs and crashes that negatively affected the gameplay.
Minecraft 1.14.1.3 for Android