Minecraft 1.14.0.2 for Android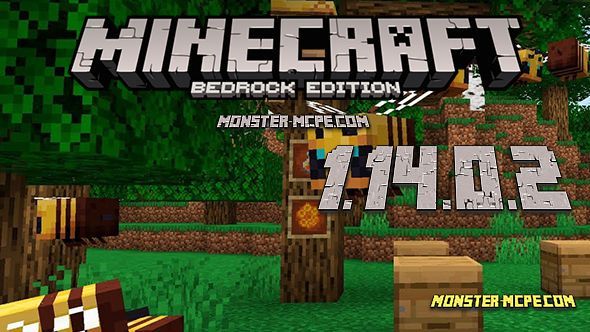 We present to your attention the new
Minecraft 1.14.0.2
update, this is a new version in which the errors of the previous Minecraft 1.14.0.1 update were fixed. In the new update, errors were fixed for Android devices, namely, the game was generally optimized and significant errors of the previous version of the Minecraft game were fixed.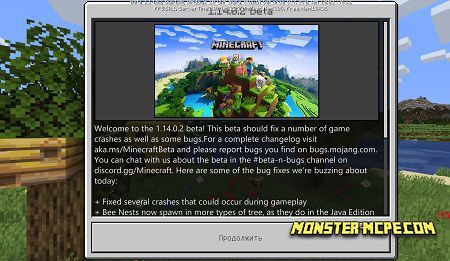 As previously mentioned, the version of
Minecraft 1.14.0.1
was not stable enough. A large number of players began to complain about errors that prevented a comfortable game. That's why the Mojang developers took into account this unfinished version and have already released to us a ready-made and updated
Minecraft Bedrock 1.14.0.2
update. In total, about 52 errors were fixed.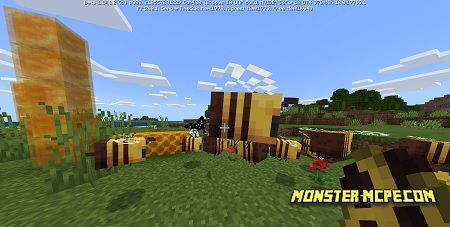 For a stable and comfortable game, the following errors were fixed:
— Fixed crashes from the game;
— Fixed a bug related to Honey Block;
— Fixed a bug that occurred during the malfunctioning of the Crafting Table;
— One of the significant ones is a bug due to which the chest became invisible.
Character Editor related errors
— Fixed display of objects, now they are displayed correctly;
— fixed flicker;
— Conducted general work on the correction of minor errors.
A new field with the Player's Selected Items has also appeared in the Character Editor.
As everyone already knows in the last update, new mobs were added, namely Bees. Everyone understands that each new update brings new errors and corrections, this was no exception and dozens of different errors arose after the release of this version. In the new Minecraft update 1.14.0.2, the developers fixed a number of errors, let's look at them below:
— When the hive burns, the bees leave it and fly away;
— Bees find hives faster;
— Being in The End and The Nether locations, the bees do not look for hives;
— Bees will be aggressive if the player tries to take honey from sleeping bees. Bees will wake up and be aggressive, so do not forget about bonfires;
— Nests will appear on all types of trees, just like in the Java version of the game Minecraft;
— From now on, to craft one honeycomb block, the player will need 4 honeycombs;
— The player can see the green particles under the bees during pollination of plants;
— Fixed Slime Block and Honey Block. Do not stick together when one block is shifted by a piston; They have the same texture in Java and Bedrock.
Please note that this version is a test version and errors and crashes are possible.
Minecraft 1.14.0.2 for Android