Download Minecraft 1.14.0.1 for Android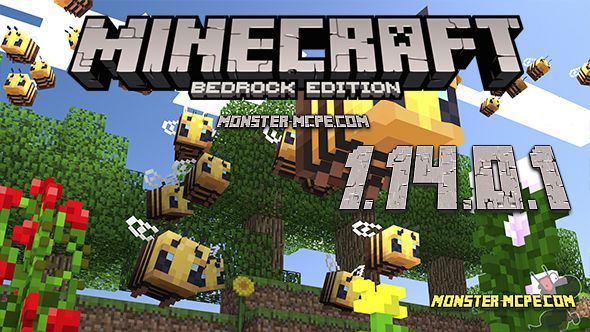 We are glad to welcome you on our website, today we will tell you about the upcoming update, which carries a large number of innovations. It's about updating
Minecraft Bedrock 1.14.0.1
. During Minecon-2019, developers presented all the upcoming additions to the game. Below we will consider in more detail with you everything that players will receive in the Minecraft 1.14.0.1 update.
A new insect will be added to the
game
, many of you can guess what it may be, we will tell you, most recently this insect was added to the world of Minecraft but for
PC version
of the game, namely Java version. It's about bees. Each player can download everything related to this insect in the new
Minecraft for Android 1.14.0.1
update!
A bee will be a harmless mob, as they will be neutral towards the player. They will attack the player only if the player attacks them. Let's look at a shortlist of their features:
— Firstly, these mobs are able to pollinate, as well as collect pollen from flowers;
— They can collect pollen from a nest or hive;
— Follow the players who will have a flower in their hands.
And now let's take a closer look at everything that was added to Minecraft Bedrock Edition 1.14.0.1:
1.
Bees
— As previously mentioned, these mobs will be neutral in relation to the player, and they are generally very nice;
— Do not attack them for no reason, as they can attack you to defend themselves;
— Be kinder in relation to these insects, because if they sting player, it will remain in player and they will die in the nearest time. Please note that after their death player will not get anything;
— The purpose of these mobs is to collect pollen. These insects are very fond of flowers and will spend all their time around flowers;
— After collecting a certain amount of pollen, these mobs return back to their nests;
— By collecting and transferring their pollen, these insects help us to grow our crops;
— If there are no flowers near the bee, and she cannot find nectar, she returns to her nest;
— Bees wandering without a nest will fly in search of free;
— At night and during rains, the bees do not leave their nests, they simply either sleep or sit in the nests because they do not like rains.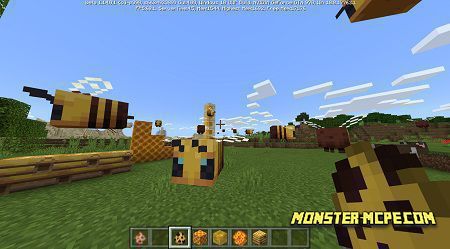 2.
Hives/nests
— The player can find a bee nest in one of the green biomes, such as Plains, Sunflower or Flower Forest biomes;
— The level of honey may increase after the bee has successfully collected pollen and carried to the nest;
— The maximum level of honey can be up to Fifth;
— The player can build a beehive using wood/honeycomb plank;
— The player can get blocks with new insects inside, all he needs for this is just to use a special tool Silk-touch;
— The bee's nest can be destroyed if the player did not use tool Silk-touch !;
— In order for the player to receive a honeycomb, use shears when the honey is full;
— In order for the player to receive a bottle of honey, use a bottle over full honey;
— An interesting fact, the bees become calm if there is campfire smoke nearby. The player can set the campfire under the nest so that the bees go into quiet mode;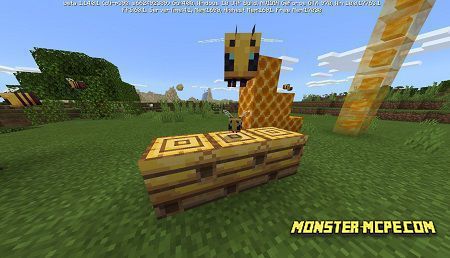 3.
Honeycomb or bottle with honey
— In case if player wants to get a bottle filled with honey, he can use a glass bottle in their nests. Attention this nest/hive should be fully filled with honey;
— Dispenser have the ability to fill bottles with liquid and to cut cells.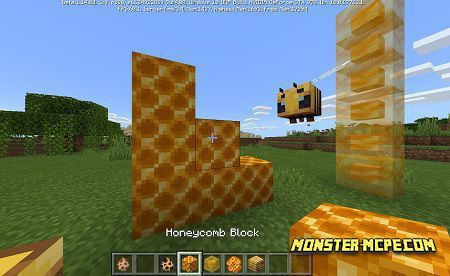 4.
Block of honeycomb
— A new type of block that the player can use for decoration.
5.
Honey block
— Reduces damage from falls;
— Reduces movement speed;
— Reduces the height of the jump;
— The player has the ability to slide on a honey block going down the wall;
— The adjacent block will move if the honey block is moved by a piston;
— Objects located above the honey block will also move if the honey block is moved by a piston;
— The player can use BlockProperty: PreventsJumping. Sticky Block Support.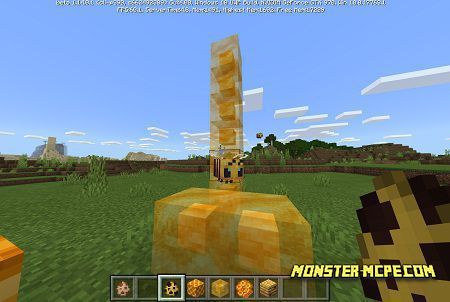 Also, all players can watch a detailed video about what was added in Minecraft 1.14.0.1:
Download Minecraft 1.14.0.1 for Android