Minecraft 1.15.0 for Android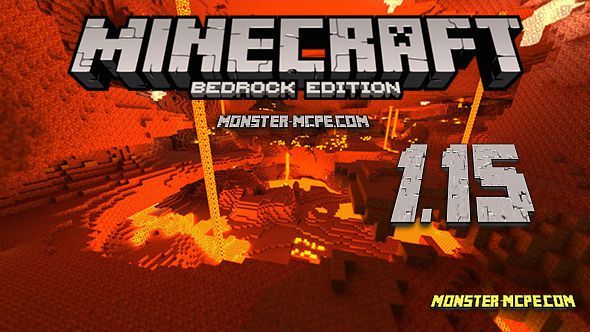 We present you with a
new update
that brings global changes to The Nether world,
Minecraft Bedrock Edition 1.15.0
. New mobs, newly updated locations and much more in the new The Nether update.
Let's take a closer look at the new
Minecraft 1.15.0 update
.
As previously mentioned, this update introduces a major update to the underworld, namely The Nether! This is the place where the player will meet scary and terrible things, a mystical blue fire and a valley of souls! In general, this update was terrifying and creepy. All this was the idea of the Mojang developers who decided to modify and introduce something new into the familiar Nether world, namely to fill it with new places, textures, blocks, effects, sounds, and even new mobs.
New mobs and biomes are just the beginning of what developers are going to change and add, in, say, the new Nether world update.
New Biomes at The Nether world
New biomes were added, such as Valley of Souls, forests of blue Nether Wart and red Nether Wart, and several other equally interesting biomes. Below you will see screenshots that will depict some above biomes. Pay attention to how lighting, textures, and locations in biomes change, each of which has its own uniqueness.
New Mobs
New animals, or rather mobs that will always be aggressive towards the player and other living creatures, they are called Creepy Nether Boars. After dying of them, the player can receive food as a drop.
New mobs have also been added, which represent a new civilization called Piglins! These are pigmen, but we ask you not to be confused with those that were earlier. They are very aggressive and will attack all living things. All that is currently known about them is that the player will be able to somehow interact with them.
Attention:
According to preliminary information, the developers plan to release a beta version of the game by the beginning of 2020.
Minecraft 1.15.0 for Android