Download Minecraft PE 1.5.0.7 full apk free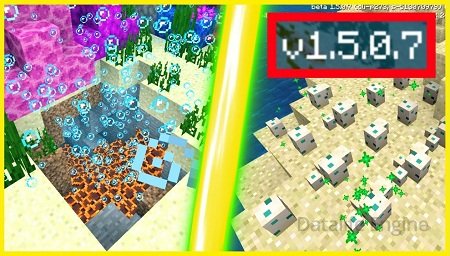 Updating and improving of
Minecraft 1.4 Aquatic Update
continues, and today you can download the new version of the mobile application. In this release, the developers have eliminated the bulk of errors, in addition beautiful particles of columns of bubbles appeared in the game world.
What has changed in Minecraft PE 1.5.0.7?
Bubble columns received new beautiful textures. Players may turn it on and off in the graphics settings
The trident does not break block elements in Creative mode
Fixes in MCPE 1.5.0.7:
Generating the world does not cause the game crush
Particles appear while diving into the water
Tropical fish cause the appearance of particles when diving to the pond
The bow is correctly displayed when the bowstring is taut
The dolphin can no more pass through the lava block
Increased hitbox in fish
Enchanted Trident in Fire does not turn red
Salmon does not get stuck in motion
Zombie residents attack the eggs of turtles
Correct display of particles when turtles instill a hare
Fixed the movement of the hands of drowned people
Mobs are not generated on elements of red stone
Correction of textures of other objects
You can download Minecraft PE 1.5.0.7 from the link below and see all the fixes in the new version. Have a good game, friends!


Download Minecraft PE 1.5.0.7 for Аndroid (Original)
Minecraft PE 1.5.0.10 full apk free
Download Minecraft PE 1.5.0.7 full apk free