Download Minecraft PE 1.5.0.10 full apk free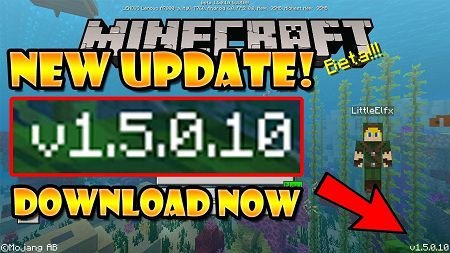 The new Beta version of Minecraft Bedrock 1.5.0.10 (PE) fixes a big number game errors that players have noticed in gameplay. In addition, the developers have slightly updated the main menu screen.
Bug fixes:
Corrected some serious crashes that happen in the game
Corrected a bug that happen after placing down an egg of sea turtles to inventory slot
Creatures no longer can be invisible depending on the player's point of observation
Better performance near underwater fortresses on Android device
Players cannot float up or down when they swim forward
Better effects of the Aquatic Update, which were not played on devices with a small amount of memory
Water currents got the right angles if it flows down
Correct rendering for water and lava liquids
Removed under water blocks will now create a source of water
The ejected objects will no longer swim against the flow of water
Tridents will no longer disappear when hit in a rack for armor
Bubble column now appear faster when it's blocked with a rigid block
Reduced the time of destruction of coral block in the Survival mode
Rain no longer limits visibility
Sounds of drinking won't be played 2 times while using potions or drinking milk
Fixed spawn of guards
Working observers are now converted correctly from the console worlds
Fire defence will protect player againist long-range attack
Reduced damage received in the lava, when equipped armor with fire resistance and protective charms
Protection enchantment defends player from any type of damage
Unique charms in the player's nickname won't occur a syntax bug while teleporting
Maps of forest mansions again correctly show the players' points
Pumpkin is absorbed while making an Iron Golem
The layer when snow falls on the snow block won't lose 1 layer
Corrected problem with created world that was not synchronized to Xbox One console
The strength of egg of sea turtles is increased when objects fall on them
Zombies and Drowned do not tremble during jumping on the egg of sea turtles
Drowned people will get out of water when night starts hor hunting the player
Placing of ice block to lava blocks in the Lower World cannot create a source of water
Fixed the lower texture of hay flow in the hand and within
Turtle expert's arrow apply the correct level of resistance effect at the target
Activated conductors won't have a dark texture in some types of devices
Corrected a bug with tamed creatures in result of upgrading to the latest beta
Newrelease of the full version of MCPE 1.5 should take place on June 21.
Download Minecraft PE 1.5.0.10 (Android 2.3.6+)
Download Minecraft PE 1.5.0.10 full apk free