Minecraft Bedrock 1.10.0.4 apk free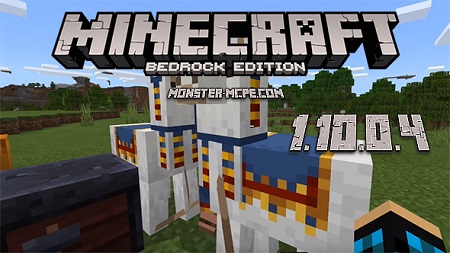 If you have already tested and explored the latest update, you noticed how much the world of
Minecraft for Android
has changed. That is why you should download
Minecraft Bedrock Edition 1.10.0.4
so that the beta version works without a glitch!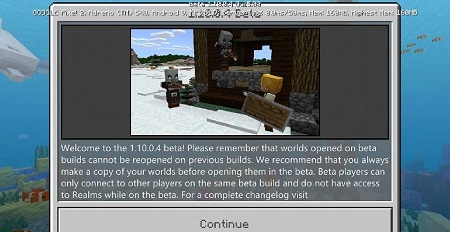 Fixes in Minecraft Bedrock Edition 1.10.0.4
As promised by the developers, a week after the release of the beta version, they released an update with fixes. In the nearest time, there would be some new edits and improvements that will fix the different types of issues in the game and gameplay for Minecraft Bedrock Edition 1.10.0.4!
— Formatting in scripts was fixed, extra spaces interfered with copying and editing files.
— Fixed a bug that occurred when player spawning closely to the villages in Minecraft for the phone.
— Fixed the hills generation, in birch forests.
— Fixed a bug with the display of text on the plates.
— Corrected the use of lowercase letters in the position "minecraft: pick_hit_result_changed"!
— Updated scripts to work with the "initialize ()" function.
— Fixed error when generating events with SpawnParticleInWorld!
— The problem with hasComponent is completely solved for some creatures.
— Fixed a bug with the landscape around the villages in Minecraft Bedrock Edition.
— Removed a bug with blocks of dirt inside the structures.
— The problem with invitations on iOS was fixed.
— The error with the Dragon of the Edge and its invisibility was solved.
— Added high-resolution texture support for Lectern models.
— Corrected the work of eggs of spawning for custom objects in Minecraft Bedrock Edition 1.10.0.4.
— An error with the villager's spawn is no longer relevant.
— Removed the rebirth with a shield.
— Remade third party shield display for Minecraft PE10.0.4.
— Also, corrected the behavior of shields with an active crossbow in hand.
— Returned custom textures to zombie horses.
— Fixed a problem with the hands of the endermen.
— Solved the problem of compatibility with custom resource packs.
— Tamed mobs-kids no longer become adults.
— Displaying the list of worlds on the Xbox is now correct even after a reboot.
— Fixed breeding mobs in Minecraft PE and the number of offspring.
— Switching the "All Items" window no longer causes a bug and problems with crafting a recipe.
— Llama of stray merchant looks normal again.
— Fixed a major crash with the launch of the game, when the player hung on the splash screen while loading.
Minecraft Bedrock 1.10.0.4 apk free