Minecraft PE 1.9.0.3 apk free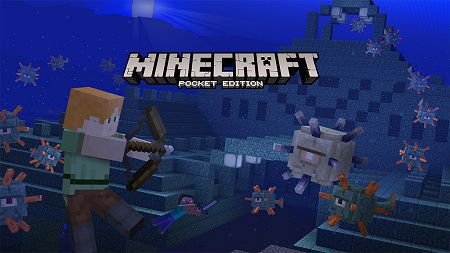 Download Minecraft PE 1.9.0.3 apk for free on this page! We are pleased to inform you that a new version of the popular MCPE 1.9 Update has been released.
Here you will notice some additions and new features that were not in older versions.
What is new in MCPE 1.9.0.3?
Learn More:
Оpen this link
What's new in MCPE Aquatic Update?
Set "Use experimental interface" as active if you want to play with all new features in Minecraft PE 1.9.0.3
1. Dolphins are cute creatures that can be found near the underwater ruins. Feed them with fish to make friends with them. Salmon is also suitable for domestication.

2. A new biome in the ocean with new inhabitants of the sea depth. There are many features that create a special atmosphere of the underwater world.

3. New fish. Naturally, it appears in the oceans and seas. In total, there are four types of fish, it has different sizes and abilities.

4. Use the trident and the new enchantment for this item!
 
 
5. Sea pickles

6. Coral reefs are multi-colored plants that now adorn the seabed in MCPE

7. Coral blocks

8. New structures in the form of sunken ships, where you can find jewelry and a treasure map.

9. Underwater Gorges is just an unforgettable sight!

10. Icebergs

11. Prismarine plates and stairs can be used for building different structures

12. Drowned - new aggressive creatures

13. Turtles and turtles eggs
What are the differences between the CRACKED version and the original version?
CRACKED will not require a license from you, but you will not be able to play with Xbox Live
Original version is licensed, you can launch it using
Toolbox
or
BL
Version x86, designed for Intel processors
Do not forget to update
BL
for Minecraft Bedrock
Minecraft PE 1.9.0.3 apk free