Download Toolbox APK v.4.3.6.4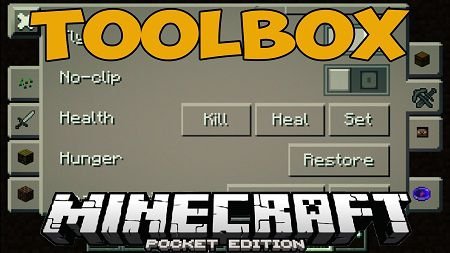 Toolbox for Minecraft PE is a universal tool that is used to install various mods on a portable device, create new items, get different things, include x-ray mode, make objects magical, manage the game process, create, also destroy living beings, add a waypoint and much more!
This is a quite useful addition, as its essence is in connecting another modswith which you can make your game more diverse and functional.
For example, the player can install a new add-on that creates guns in Minecraft Pocket Edition, and then use the toolbox to take this new weapon from your inventory. Now we are talking about this possibility in survival mode.
Toolbox for MCPE allows you to modify, generate or kill living beings in a cubic world. The application also creates a set of configurations: the management of game modes, speed, weather, player's health, the speed of the game process.
Current version v.4.3.6.4
Support MCPE 1.4.2
How to use toolbox?
You can notice the compass button when you open the inventory for the first time. The item is located in the upper right corner. There players may also use the search box to take the items you need.
Finding blocks using X-Ray mode
Go to the add-on menu and open the modification item, where you may activate X-Ray mode. After the mode is enabled, you'll see a new icon.
When the X-ray mode is turned on, every block become unvisible. All valuable minerals, such as diamonds, gold, iron and others, are immediately noticeable!
Armor HUD
Now you have the opportunity to see the strength of your armor in Minecraft PE. This means that on the screen in the upper left corner, the parameters of your reservation will be displayed. Each element of the armor is shown separately, and you can see when the armor wears out.
Deleting blocks and items
Toolbox allows you to quickly and easily get rid of objects. Go to the inventory and use the delete icon. Click on an unnecessary item and it disappears after you click delete.
Getting blocks
Check the inventory in MCPE and select some block. Click on the item and you'lll see its craft recipe.
Setting armor
When you want to choose the armor for your character, just go to the inventory. then click on some item to install it into the armor slot.
Enchanting blocks
Toolbox gives you the opportunity to enchant blocks, for this there is a special button. Click on it to create a special window, where you can select the desired magic parameter.
Toolbox apk v.4.3.6.4
Download Toolbox APK v.4.3.6.4