Download Minecraft PE 1.5.0.1 full apk free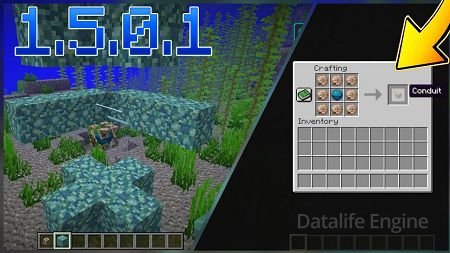 Developers release the next update
 Minecraft 1.5.0.1
, where you can observe some changes and many bugs fixed. The gameplay becomes more comfortable thanks to new features of MCPE and stability of the gameplay! You can download Minecraft PE 1.5 by following the link at the end of the description. So, let's talk about the main novelties in this release!
What's new in Minecraft PE 1.5.0.1?
Block conduit
"Conduit Power" effect
The ability to breathe underwater with a new effect, improved vision during swimming, increased speed, which allows you to extract resources in water much faster.
What has changed in Minecraft PE 1.5.0.1?
Friction of ice blue blocks is slightly weaker
Bug fixes:
Fixed crashes in the game process
Normal use of bone meal
You can place a block under the water in Creative mode only after the player has selected another block
When swimming in ice, the player will not be able to breathe
The trident is not destroyed by explosion
The endless appearance of bubbles from the trident throw under the water disappeared
Stable operation of the buttons in the main menu
Limited Y height to 225 in the '/ spreadplayers' command
Mob can not appear on the carpet
Correct display of buttons
Fences can be installed on different blocks, including on leaves
Sea grass can be stacked automatically in stack
Flight on a descent with a stable speed
Marker on the card with jewels does not disappear anymore
Fix minor bugs
To make Kraft Conduit, use the recipe: 8 nautilus shells and 1 heart of the sea.To activate the Conduit, you need 16 blocks of prismarine, the conductor must surround the water from all sides.You can replace the prismarine with a marine brick or sea lantern.

When you activate Conduit, the character appears underwater breathing while swimming, vision improves, the speed of resources extraction in the pond is higher!

A new water effect will operate within a radius of 16 blocks - on each of the 7 blocks that create the frame. Activation occurs when there are at least 16 blocks of prismarine in the frame.

To fully activate the Conduit, you need 42 blocks, then the player will have another opportunity - to attack enemy creatures within a radius of 8 blocks, for every 2 seconds the mob will take away the heart of health.

You can use different constructions to activate a new effect.

Remember that the Conduit block must be in the center of the structure, after which the activation is automatic.

Download Minecraft PE 1.5.0.1 for free you can follow the link. Install an update and create underwater bases with effects right now!


Download Minecraft PE 1.5.0.1 full apk free