Download Minecraft PE 1.5.0.4 full apk free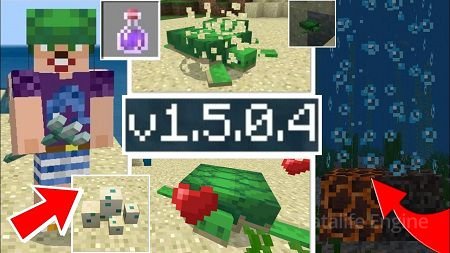 The new version of
 Minecraft PE 1.5.0.4
is available for download. It has a lot of everything new, including a turtle. These creatures were presented as an official addition to MCPE 1.4. Download the new beta version of Minecraft for Android, you can follow the link at the end of the description!
The first release of Minecraft 1.4 is only half the large-scale of Aquatic Update. Now the developers are working on creating the second part of the update, and you have the opportunity to play with the first beta version.
What's new in Minecraft PE 1.5.0.4?
The next part of the Aquatic Update is pretty well developed, and there are many innovations. For example, the developers will create turtles in the second part of MCPE 1.4, except for them there will be other mobs and objects:
Bubbles
Sea turtle (turtle eggs)
Tortoise shield
Turtle shell
The turtle potion
What has changed in MCPE 1.5.0.4?

Changes in the new version is enough. Developers have corrected errors and added new features and features. Main changes:
Added background to the main menu
Coral block does not disappear in water
New textures for kelp
Fish with new textures
Ability to adjust the field of view, you can change from 70 to 60 by opening the video graphics settings
Bug Fixes in Minecraft 1.5.0.4:
Fixed problem with application crash
Activation of the piston takes place without departure
Sea cucumbers do not create a flight
Ender Dragon graphics particles improved
Sea mobs move without delay
The Power Explorer effect works
The trident attacks only one player on a roll
A character in the boat takes damage when falling from a high altitude
Attack of mobs in the water
The correct color of horse armor when changing the world
Skeletons can attack the Wither
Increased productivity!
You can download Minecraft PE 1.5.0.4 for free by the link below. We recommend you check all updates now. Have a good game!


Download Minecraft PE 1.5.0.4 full apk free