Tyrannosaurus Rex Addon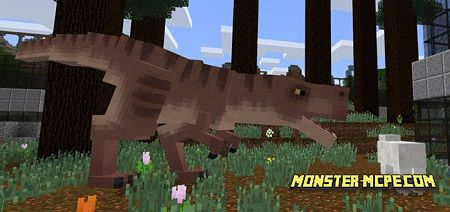 new creatures with cool animation into MCBE, it is
Tyrannosaurus Rex
! Perhaps this creature is the most dangerous in the game. Also, each player can tame them, all you need is just to find the baby of this mob and feed it with meat. Please note that it should be the young creature! After you tame him, you can use it for your future adventures, for example in order to ride him or to use it as shield for your protection.
How it works?
T-Rex exciting and powerful creature with additional animation. Before attacking his enemy, he will roar in anger! It looks very cool.
As it was mentioned before, player can tame this mob, but it should be only young and little, not big, because in case with big, you will die, that is why recommended to avoid him. In order to tame him, use any type of meat.
For devices:
Win 10 - Player should have in his hands some piece of meat and right click on this mob.

Android/iOS - Almost the same, but here your should pressing long on mob and click on interplay.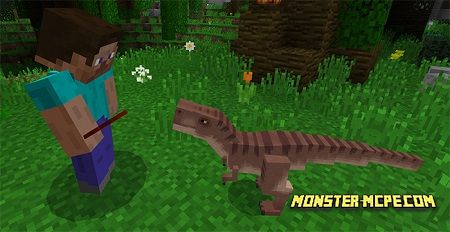 Sneak up and use the button of interaction, to make your mob stand or sit.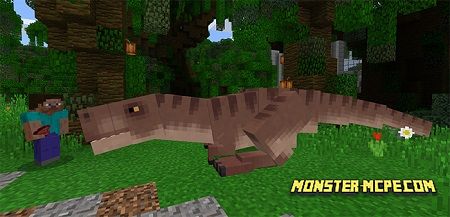 Each creature has animation, also do not forget that you have opportunity to ride them.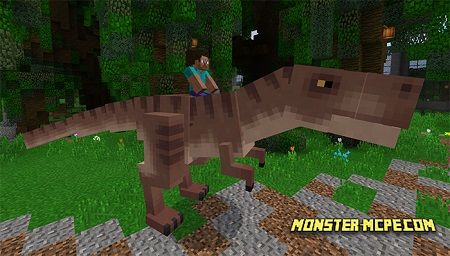 Description of mob
You can find them in these biomes:
- Lives in Mega-Taiga
- Forest
- Taiga
- Forests: dark oak and roofed
Hostile, except of babies
Player can tame them
Rideable when they already adult
Tamed creature will follow you everywhere and help you while fighting.