Lucky Blocks Map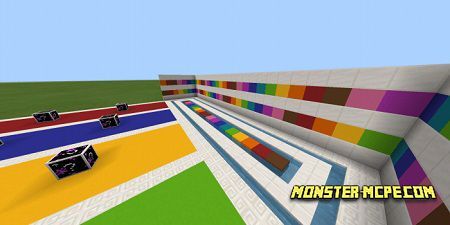 A new very exciting game for you and your friends, which is called
Lucky Blocks
. This
map
was created using only commands without any additional textures, add-ons or mods. This game can be played by 1 to 4 people, and it also includes two modes.
How does it work?
As elsewhere, first, you will appear in a place called the lobby. There you must select the first game mode and the number of the player you want to play for.
You can also find detailed information in the game in a special book that will be located on the right. In this book, you will find a detailed description of the modes.
Choose a player to play and start the game!
After you select a player and begin you will be redirected here:
Each road corresponds to the number chosen by the player, for example, a red road for 4 players, and green for 1 player.
After the first block is broken, you will try your luck. You can get both positive effects and not so, for example, a creeper or an attack from arrows from the sky.
Structures such as this can also be generated in the game:
The game has about 30 different effects!