Five Nights At Freddy's Ultimate Custom Night Map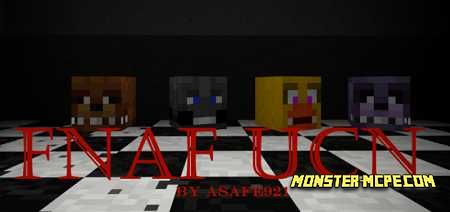 Have you ever played one of the famous series of the game the
Five Nights at Freddy's
? If yes, then the new and stunning
map
is exactly what you need. Here you will find absolutely everything that can interest you in one way or another in this game. For those who don't know what is Five Nights with Freddy, this is a very popular survival horror game.
The game takes place in a place which is a pizzeria in which the player's character acts as a night guard who must defend himself from animatronics coming to life at night by timely closing the electronic doors through which they try to enter the main character's office.
The game was highly praised by critics for its unique approach to the survival horror genre, focusing on its simplistic graphics, as well as how its game mechanics and aesthetics contributed to the increased sense of fear and paranoia.
In the new game
Five Nights At Freddy's Ultimate Custom Night
, players have the opportunity to choose which animatronic will come to you at night. For each specific type of animatronic, there is a specific way to win. This is a very fascinating game for you and your friends! Have fun and be afraid together!
The time period in which you should expect an attack from animatronics: From midnight to six in the morning! Be careful and protect yourself using all your survival, hiding, and agility skills. Only the bravest and strongest can survive.
It's very simple, you need to be careful. For example, in order to defeat Freddy you need to close the door as soon as he approaches; As for Foxy, watch the cameras closely; For some others, just use a flashlight.
This version of the game is very interesting because each player can adjust certain of its parameters. For example, players can select a specific animatronic to customize the game mode at night. We draw your attention to the fact that each specific animatronic has a unique behavior, and each of them behaves differently, which is their big difference from each other and a feature of the game. You can see more detailed information in a special room for choosing one or another animatronic.
In general, there are six types of Animatronics available in the game.
One of the player's most important tools is a flashlight. Don't forget to use it and be careful. (The flashlight has been fixed and works correctly).
Let's take a quick look at all the animatronics below.
Types of animatronics in the Minecraft world:
1. The first is Foxy. The main task of the player is not to lose sight of him, if he disappeared and does not appear on the camera, then most likely you have either already died or will die now.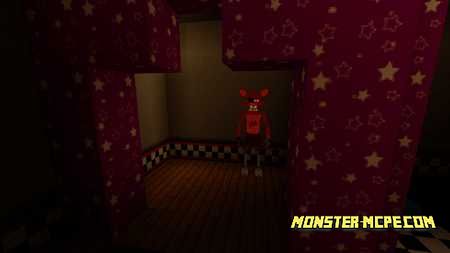 2. The second animatronic is Freddy. He can walk all over the pizzeria, so make sure you close the doors behind you.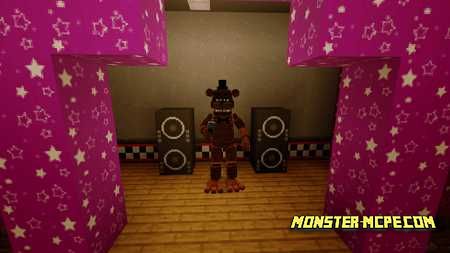 3. Similar animatronics Phantom Freddy and Freddl. These animatronics will start looking for you one hour after the game starts. But still, be careful, as at any moment the game will start and your only savior will be a flashlight.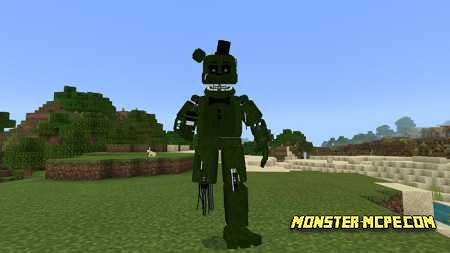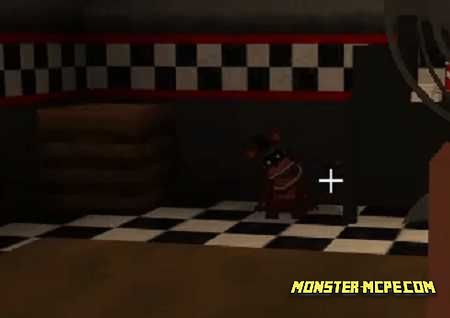 4. White-violet Foxy. This animatronic is similar to the normal Foxy, but unlike the normal, this type of animatronic only appears in the game at three in the morning. He will not be looking for you all day, but be careful because if suddenly this animatronic disappears, you may die.
5. The next type of animatronic is called ToyBear Fredy. This animatronic is most often found in service and parts rooms.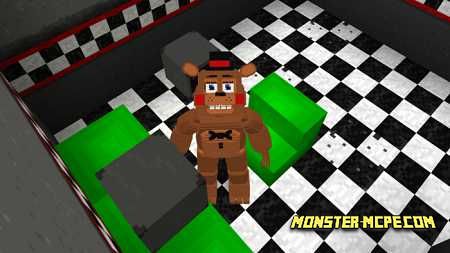 The new map consists of rooms such as:
1. Office. A place where players need to survive the night and not die at the hands of animatronics. Here you have a camera, a flashlight and a door that will protect you from these hostile monsters;
2. Dining room. The habitat of the three animatronics;
3. Services and parts.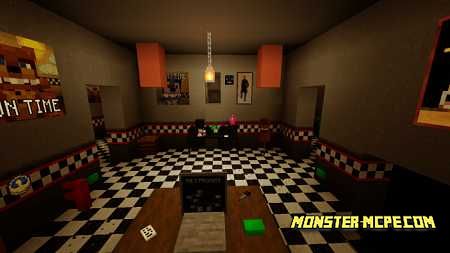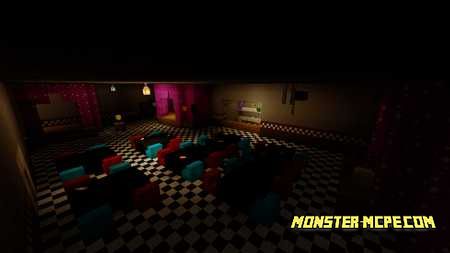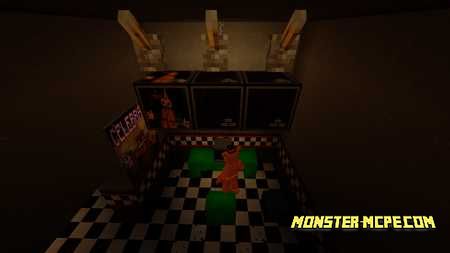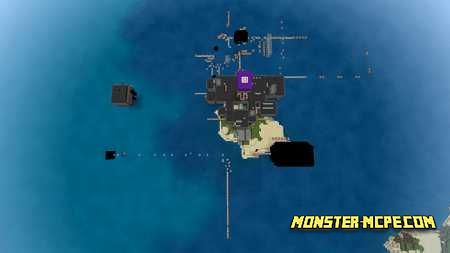 As mentioned at the beginning, this game can be played with your friends as it has a multiplayer game mode!
Attention: We recommend using powerful devices on Windows 10 (with good performance) since this map has certain significant requirements. On devices with low performance, the game may crash.
Doesn't work on iOS iPhone 7 and below/Android Moto G5s (2017).
Works on devices such as Samsung Galaxy S20/Tab S6, S5E, S6 Lite/iPhone X/iPhone 11/iPad (2018+)/Windows10 core i5 6gb ram with small lags/core i5 8gb ram with GTX.
Five Nights At Freddy's Ultimate Custom Night Map