Saw (Horror) Map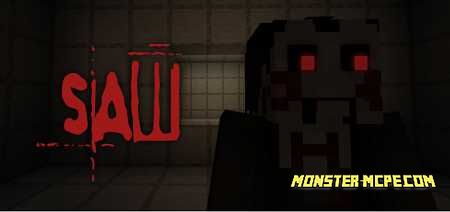 Do you like different
Horror maps
? What about the Saw-style map? Have you ever watched this famous horror movie? If not, then we advise you to watch this film, for those who still saw and did not see the film, we present a new map called
Saw
. The idea was borrowed from the famous horror movie Saw. This is a very addictive game for those who love different challenges, scary maps, and various kinds of quests that will lead you to freedom.
Excellent map for survival in the horror style is a new experience and new useful skills. In order for the player to survive, he will have to go through various obstacles that will be on his way. This is a game where each player needs to show their mind and attention since your life depends on it.
Another feature of this map is that in the background of this map you will hear Saw's voice! We recommend using headphones and turning it up. It will give you fear, and most importantly, you will be able to better hear the Puzzle that Saw will tell you!
This game can be played by one player or several, namely up to three players. Together you will face such challenges as different puzzles and riddles that you need to solve in order to survive and get free.
Attention: Please note that on this map it is better not to use cheats or break blocks, as this will ruin the whole storyline of the game. Do not forget to increase the volume in the headphones so that you can clearly hear what the maniac Saw is saying to you!
Short story:
You were locked up in an abandoned and old mental hospital. Waking up, you realize that you are not at home and that you need to find a way out as soon as possible, but for this, you need to go through quite a few different obstacles, such as the puzzles of a maniac named Saw. It depends only on you whether you live or not!