Cake Wars (PvP)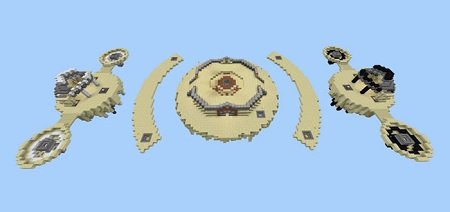 Cake Wars 
is a cool arena for PvP battles with many different features in
Minecraft: Bedrock Edition
. Players who participate in the battle can use a special advanced bidding system. Also there is a generator system and other interesting features. The visual design of the add-on is quite beautiful and designed for two players at most. So you'll need to use Realms or the local multiplayer mode to enjoy the game to the fullest!
How to play?
In order to start the battle, ask another player to connect to your world in Minecraft PE. After that, each player needs to be on the blocks, one on black, and the other on white. After a while the battle begins!
The main goal is to become a winner by eating or breaking the cake of your enemy. Remember that you need to protect yourself too, so take care of your own pie. There is an automatic generation system, which allows you to receive different items. Items can be used to trade with residents, for that just visit the store on the island.