Moon Wars Map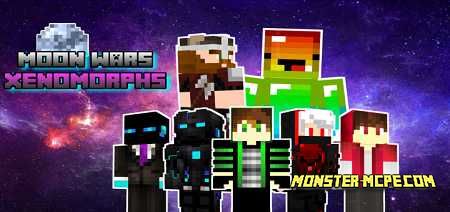 Would you like to fly to the moon in the Minecraft world? If yes, then you have such an opportunity with the new
Moon Wars PvP
map. You may have already seen the Moon in the Minecraft world, but you could not always get there. The new
PvP map
gives every player the opportunity to visit this place. In addition to playing on the moon, you will also have the opportunity to fight with your friends, as well as with various monsters.
The main goal of your stay on the Moon is to fight with friends in special PvP places, fight aliens, and also look for a safe zone to which you need to run as quickly as possible. In order for you to win, you need to be the first to reach the winner's safe platform! The last player left on the safe platform will be the winner and the last survivor on the moon. Active battles will not let you get bored.
Below you can see what a place called the Lobby looks like on the moon:
As always, PvP battles in the lobby are prohibited, since this function is not available in this place. You can fight only outside the Lobby while already on the map.
To start the battle, use the special button in the center of the Lobby.
After that, the player needs to jump down to go to the waiting room before the start of the battles.
In order for your game to start, you need to play with at least three players.
Thanks to the unique design of the map, you will be able to see the moon through the glass transparent floor.
Below you can see a screenshot of the location of the players' battles.
Also, do not be surprised when you levitate on the Moon, as this is the Moon, and thanks to the low gravity you will be floating in the air.
Below you can see an example of aliens you can fight with:
Low gravity allows you to hit hard.
A special safe zone which will decrease will allow you to escape, your task is to get to it first and stay in it until it is safe.
Be careful, the aliens will be looking for you to kill!
This map is not only for survival and battles but also for testing your reaction and speed.
The first person to reach the platform wins.
Below you can see a screenshot of the Earth view!: