Star Wars: Attack on Tantive IV Map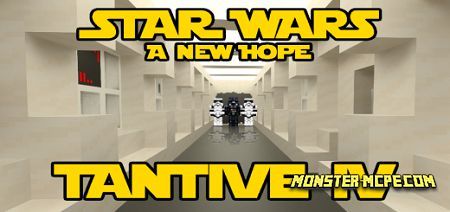 Are you a fan of the Star Wars universe? Or maybe you just like some space-related places? If one or the other, then the new
Star Wars: Attack on Tantive IV
map is what you need. This
map
represents a ship and a planet on which your battles will take place. Become a part of the Star Wars universe and save the Galaxy or vice versa! Here, players will take part in a battle on the legendary spaceship Tantive IV.
This is a famous ship that, on the one hand, is a trip to the iron fist, which took part in many battles. In this map, this ship's main engines failed, which led to the fact that it was attracted by the light beam of another Imperial Star spacecraft.
Will choose the side for which you want to fight or who you want to oppose in this battle. Players can choose the side of the rebel soldiers and protect the galaxy from the dark forces, or be part of a team of imperial stormtroopers.
The game begins with the fact that the player will be spawned in a special Lobby where each player will have the opportunity to choose a side for which he wants to play. Also, players can choose whether they want to fight in multiplayer mode with their friends or play in single-player mode exploring new places. The multiplayer mode allows players to fight and play more actively, while the single-player allows players to better explore the new map.
Please note that for a better and better game and better experience, you can use the available textures that will look best with an RTX2060 graphics card or higher. In this map, players can see high-quality ray tracing as they are supported here.
Below you can see screenshots of some of the locations in the new map:
Explore all the rooms of the ship and be careful because the enemy can be very close.
Star Wars: Attack on Tantive IV Map