Tag and Run Map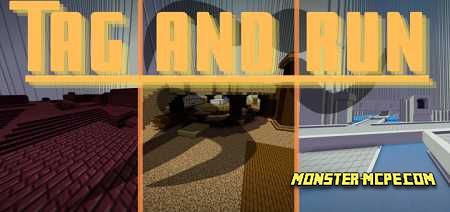 Do you like playing different mini-games, especially if it's a PvP map? If yes, then the new
mini-game
is what you need! The new game is called
Tag and Run
. This is a very fascinating and interesting game and also a great opportunity to improve your PvP and agility skills. Let's take a closer look at the new mini-game.
As mentioned above, this PvP mini-game is called Tag and Run. From the name of the mini-game, you could probably already guess what will need to be done in the game, but for those who still did not understand, we will explain. It's very simple, each player will have the additional ability to tag another player, at the same time you need to try to avoid tagging from other players. You need to be quick and nimble enough to give the tag and avoid being tagged at the same time. Your main features will help you avoid the tag, namely the ability to create a wall of blocks, invisibility, teleportation, improved jump, and more.
This mini-game is very dynamic and will appeal to those players who want to have fun with friends. Use your agility and move around the map.
The more players play this mini-game, the more interesting it is.
The player who marks another player thereby kills him. Therefore, be careful.
We would like to draw your attention to the fact that this game has two modes. The first mode is when you have 0 XP, the second is when you have 200 XP.
How does it work?
The first mode is when the player has 0 XP left. The game starts with the fact that each player will initially have 120 XP, players who take away XP from others can kill or die when their XP is 0. The player who survived until the end of the round wins.
The second mode is the other way around when the player initially has 0 XP, and the player who earned 200 XP first wins.
Below you can see screenshots of some places in the new map: