World Animals Add-on 1.19/1.18+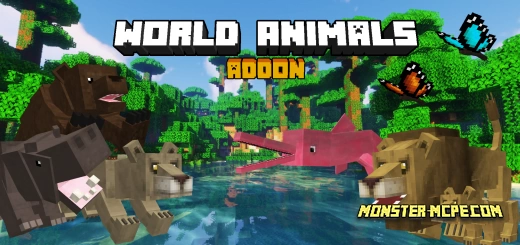 Would you like to add more different animals to the Minecraft world? If so, then the new
World Animals
addon is what you need! The new
addon
adds a large number of new different animals to the world of Minecraft. This is a very large addition that will make your world much more interesting. Most new animal mobs will be aggressive towards the player, but some of them can also be tamed and can even be saddled. Tamed animals can protect you from other mobs. Let us consider below all the new animals.
As you might have guessed, all new animals will spawn in certain biomes in accordance with their environment. Some animals can be tamed by players while others are aggressive and cannot be tamed.
In order for the player to tame the animal, he needs to use a special item. The first of these items will be golden bones. Golden bones are items that a player can use to tame a wild animal, but again we remind you that this does not work with all animals. In order for the player to craft this item, certain materials must be used, namely gold nuggets and bone.
Craft Recipe Below:
The first powerful animal that we will consider is the Elephant. This large and powerful animal lives in the biome of the Savannah and the Jungle. These animals can eat sugar cube. Use the golden bones to tame them. Players can also put a saddle on it. Elephants have 70 health and can deal with 7 damage.
In order for the player to ride an elephant, you need to craft a saddle for this animal, for this, use the crafting recipe below:
Sugar cube crafting recipe:
The next animal is the Bear. This animal lives only in forests. This animal cannot be tamed; therefore, it will be aggressive towards the player. Bears have 30 health and can deal 6 damage.
The family of wild cats! In general, seven new species of big cats will be added to the Minecraft world. Players can feed them using meat, and all wild cats live in certain biomes that correspond to their biomes. In order to tame them, you need to use the main new item, namely the golden bones. Players can also put a saddle on it. So let's look at all the big cats in the Minecraft world:
1. Lion: This animal has 50 health points and can deal 7 damage. They live in the jungle and savannah:
2. Tiger and white tiger: These animals live in the plains. They have 40 health points and can deal 7 damage:
3. Leopard: A predatory and at the same time beautiful animal that lives in the jungle and savannah. They have 40 health points and can deal 7 damage:
4. Snow Leopard: This animal lives only in snow biomes. They have 40 health points and can deal 7 damage:
5. Panther: A predatory and at the same time beautiful animal that lives in the jungle and savannah. They have 40 health points and can deal 7 damage:
6. Puma: This animal lives only in the mountains. They have 40 health points and can deal 7 damage:
Below you can see how to craft a saddle for the above big cats, for this you need a reptile skin, one chest and one iron ingot:
One of the most dangerous creatures living in the swamp terrain is the Crocodile! This animal cannot be tamed. In the water they move very quickly, they are aggressive towards the players. By killing a crocodile, a player can get useful materials, namely reptile skin. They have 20 health points and can deal 14 damage:
Another animal, namely Deer. These harmless animals live in forests. Unfortunately, the player cannot tame them. They have 25 health points. Deers can eat gold carrots, apples, and wheat:
The next animal is small enough but not as harmless as the previous one, these are hedgehogs. These mobs can eat golden carrots, apples, and wheat, and they also live in forests. Players can tame them using golden bones. After the player tames the hedgehog, he will follow the player and protect him from other hostile mobs. In addition, a small accessory was added to the hedgehogs, namely a special small hat for hedgehogs. They have 25 health points and can deal 3 damage:
Below you can see a crafting recipe for a hat for hedgehogs. To do this, you will need a block of wool and several pieces of coal:
Unique and very funny animal platypus! In the Minecraft world, this animal will be of two types. They eat fish, namely clownfish and salmon. Players can tame them. This animal will follow the player protecting him from other hostile mobs. They have 15 health points and can deal 3 damage:
Amazing Animals Giraffes! These animals can eat golden carrots, apples, and wheat. They live in the jungle and savannah. Players can tame them. They have 50 health points and can deal 9 damage:
For giraffes, a saddle will also be added which players can craft. Recipe for the craft you can see below:
One of the most powerful animals in the jungle is the Gorilla. They like to eat watermelon and banana. Players can tame this animal. Also, the gorilla will follow the player and defend against other hostile mobs. They have 35 health points and can deal 7 damage. After death, the gorilla drops bananas:
The Komodo dragon is one of the largest prehistoric lizards in the world. These dangerous animals live in the desert or in the savannah. Players can tame them, we also draw your attention to the fact that they eat meat! Also, this creature will follow the player and defend against other hostile mobs. They have 35 health points and can deal 5 damage, but unlike other animals, Komodo dragon poisons its target for 10 seconds. After death, reptile skin can drop:
We present to you the following animals that live only in frozen waters and biomes, namely this is Seals. These creatures love to eat fish. The player can tame them. Also, this creature will follow the player and defend against other hostile mobs. They have 25 health points and can deal 3 damage:
Other mobs that live in frozen waters and biomes are Penguins. These creatures love to eat fish. The player can tame them. Also, this creature will follow the player and defend against other hostile mobs. They have 20 health points and can deal 3 damage:
One of the most powerful mobs in the jungle and savannah is the Rhinos! The player can tame them. They have 50 health points and can deal 9 damage. For healing, use a golden apple, golden carrot, apple, and wheat. Also, this creature will follow the player and defend against other hostile mobs:
A saddle was also added for rhinos, see the crafting recipe below:
And the last animal is a zebra. The main question of these animals are they white with black stripes or black with white stripes ?! This animal lives in the jungle or in the savannah. Unfortunately, the player cannot tame them, and we also draw your attention to the fact that they are harmless:
Changes in the new version
Changed the animal models
Added different females and males
Update the size of the camels
Removed dark dolphins
Fixed texture bugs