PC Aquatic Skywars (PvP)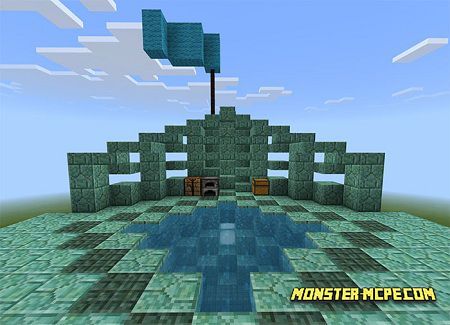 Here is official and new map which was created by Minecraft bedrock built team (pixel crew). Its only the beginning. This
map
is really amazing. It hosts from two to eight players in round at once (also, knows when 1 player remain). Game will not start if you alone, if it is enough people for game, for example from seven to nine, and anyone who not pick a team will stay on spawn. Please note, that if you ll try to begin this game with less or with more people, map will not break.
On this map you can find some chests. In these chests you may find some useful items, such as food, armor, weapon etc. Also, here you may find rare God set. It gives advantage in game among all the players. Only a few things can really danger you, it is empty map and the same powerful player with such a set. Pay attention, that player who try to escape from map will die instantly. In case if you did it, you will be on invisible area above this map and will watch how your friends will die.
Useful note:
if you will die two times, this game will break.
You will be counted as dead, if you leave mid round. The same thing if you will leave or rejoin (die). If some player will back after leaving, re-download this map.