Lance Ville Map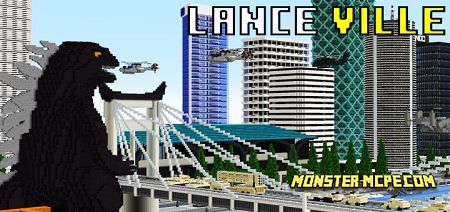 Would you like to discover a new big world? It is more correct to say not the world but an island where you can find everything you need for interesting and fun adventures. Here you can create your own role-playing game with your friends or just play in single-player mode. Discover a large number of different interesting buildings and objects located in different parts of the island. This is not the biggest
map
for Minecraft PE, but it can rightfully be called one of the big ones.
The new map is presented as an island that has been divided into several different areas. Here you will find skyscrapers, hotels, mountains, a military base, and much more. Enjoy a new adventure on a new volcanic island called Lance Ville. Let's take a look at the features of the new map below.
As mentioned earlier, the new island was divided into several different areas. In total, players can explore five different areas, each of which has a certain unique design of the environment.
Lance Ville Areas:
1. The first area is the most important area as there is a power plant that gives light to the whole island, it is also the business center of the island. It also houses the main international airport, a dedicated marina, a large sports complex, various offices and hotels, and much more. Screenshot of this area:
2. The second district of the city is its heart. This area is called Legacy. Here you can discover a school, banks, museums, a shopping mall (small), a fire station, a police station, parks, and more. Screenshot of this area:
3. The next area is called South Peninsula. This area is located on the south side of the island. Here you can also find skyscrapers, tall buildings with various offices, hotels, a hill with the name of this map, and much more. Screenshot of this area:
4. In addition to built-up cities filled with various structures, buildings such as offices and financial institutions, on the island of Lance Ville, players can find a beautiful green area called the East Grove Forest Reserve. Here, players can explore beautiful green forests, see animals that are under the protection of the army, volcanoes, of which there are as many as two, one of which is small and the other is large. Please note that both volcanoes are active. Screenshot of this area:
5. And the last area is the area where the military base is located. This area is located in the northeast of the island. Here you can see military aircraft, military, helicopters, hangars, ships (naval base added), and much more. Screenshot of this area:
On the island, players can also see some famous landmarks such as the huge Toblerone chocolate, Godzilla, and others. Screenshot:
Attention: Please note that this map may cause slight lags, especially on devices with low performance. We recommend lowering the settings in the game for a smoother and more enjoyable game.