Infinite Parkour Map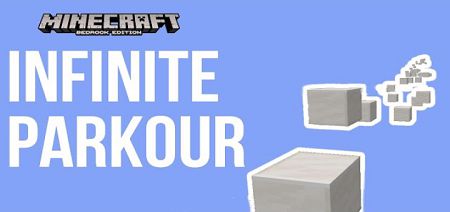 How much do you like parkour in the Minecraft world? Of course, it depends on the difficulties that will be on your way, but would you like the parkour not to end? Yes, this is an interesting idea and that is why we present you with a new
map
of
Infinite Parkour
! This is a place where you can jump non-stop and improve your parkour skills.
This is a wonderful and very useful map that can also serve as a training ground for you. Each subsequent path or jump is randomly generated. Players can also choose difficulty levels. In general, three difficulty levels have been added to this map, each of which changes the difficulty level of your parkour road. Set your own record and try to improve it, after which you can compare who among your friends can do better.
This is a great opportunity to improve your parkour skills or simply maintain existing skills.
How does it work?
Once you start the game, your parkour path starts to generate randomly in front of you. The further you go, the further, the path is generated. In other words, this map does not have the end of the path, you will move all the time as the parkour generator will generate the path for you.
As mentioned earlier, here players can choose one of three difficulty levels. The difficulty level settings are located in the starting area, namely in the Lobby. The difficulty level affects each subsequent difficulty level of the path.
An additional feature of this map is the score table. Your current score and the highest score will be displayed on the screen!