The Snake Game Map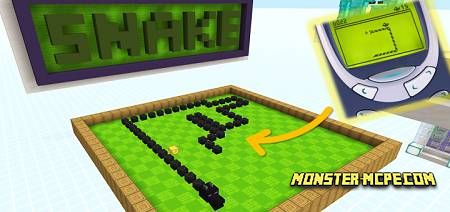 Have you ever played the world-famous old phone game Snake? You can remember this game from the time of using old push-button phones such as Nokia. If you liked this game or you missed it and would like to add it to your Minecraft world, then this
map
is what you need! We present to you a new map that adds to your Minecraft world this famous and interesting game called
Snake
.
For those of you who don't know what this game is, this is an old classic game that many push-button users have been able to play on their push-button phones. We recommend that you get your first experience in the Minecraft world. For those who have previously played this game and already have the experience, we recommend that you remember those times and have fun.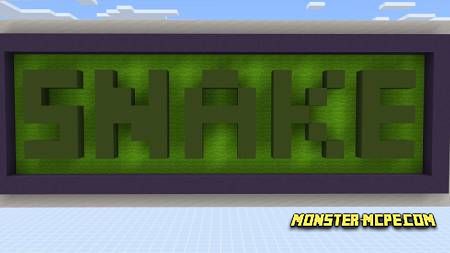 For many players this game may seem like a big challenge, maybe it is, you just need to get more experience. In general, this is quite easy, for this you will be transferred to a special platform, where you need to press the Start button, after which you will see your snake appear on a special playing field. It is very simple to control this snake, just move around the platform as you would like your snake to move. Your snake copies your movements, namely directions.
Your main task is to eat the blocks that will appear on the playing field! Also, for those who have not previously played this game, we want to note that the difficulty of this game is that with each new eaten block, your snake increases in size and becomes longer. In case you still lose control and crash into the wall, the game will be over!
We would like to note that the sensitivity of response to movements is quite fast and without delays. The main player's movement that you will use is simply forward, backward, left, or right.