Castle Kit PvP Map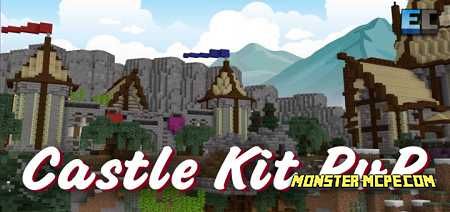 Do you like to play various game modes where you need to fight? If so, then you will definitely like the new
Castle Kit PvP
game mode. This is a cool
map
where you can fight against each other together with your friends, thereby proving which of you is the strongest. Here you can use all your skills in battles as you will have four battle packs available. Spend your time with friends in a fun and interesting way. The new PvP map allows players to choose one of four available combat sets, namely an archer, swordsman, wizard, or ninja.
In the game you can see the control room, various respawn places, the lobby, and much more. The whole map is surrounded by beautiful rocky terrain.
At the bottom of the new PvP Map, you can find the control room. Also, as mentioned earlier, there are four battle classes available to you, such as wizard, archer, swordsman, and ninja. Each class has a specific type of weapon and additional features such as abilities.