Minecraft PE 1.18.10.21 on Android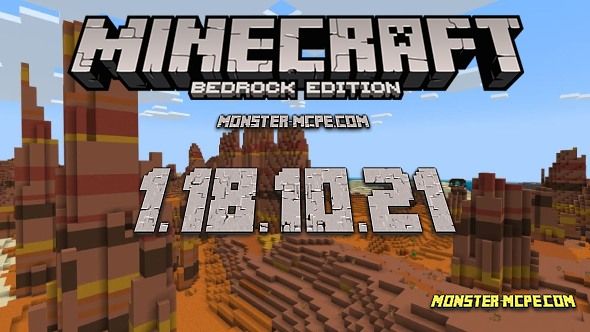 The developers have released a test version of
Minecraft 1.18.10.21 on Android
. In this update they added an experimental feature "Wild Update", made 4 changes and fixed 17 bugs.
Experimental feature.
An experimental feature "Wild Update" has been added. Features:
Sculk Blocks will appear when enabled.
There will be more features in the future
Changes
Introduced 4 changes.
The decoration frequency in the caves is similar to the Java version
The brightness of the block of Light changes and on touch devices
Mobs again jump over blocks to pick up items
Added an extra message when switching to external file storage
Fixed bugs
Fixed flat ceilings in Wasteland caves
Lilies do not appear in the cave pools under the Swamps
Fossils can be generated below level zero with Deep Diamond Ore
Fossils do not float in the cave or water
Mines are generated above the Bedrock layer
Fixed a bug with smelted items in the Furnace
Changing Lightblock's lighting level works correctly
Teleportation command will not work if the destination is blocked
Fixed the Shield blocking animation when viewed from first person
Axolotle walk animation now depends on speed
Wolves now properly react to taking damage
Fixed the characteristics of items in the hands of mobs
Improved joystick control in the menu
Message and Fireworks will appear when defeating a Raid
Technical Changes
Added 12 technical changes for addon development and testing. Improved Minecraft's performance when executing commands.
Minecraft PE 1.18.10.21 on Android