Minecraft PE 1.16.210.58 for Android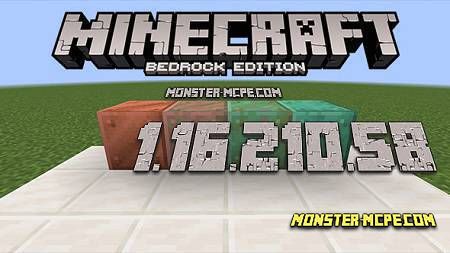 A few hours ago, Mojang released a new weekly
test update
for the Minecraft game, namely
Minecraft PE 1.16.210.58
. This is a new test update that is already available to all users of the Android operating system. The new game update is new bug fixes that Mojang has fixed to make the game more stable. In this update, the developers have fixed 26 bugs related to gameplay and technical aspects of the game. You will find out which bugs have been fixed below.
The first thing we will consider is the bugs that relate to the gameplay of the Minecraft world. In general, the Mojang developers found and fixed 17 such bugs. Below you can see most of the fixes that we think are the most significant:
Bugs fixed
1. Fixed textures of some spawn eggs;
2. Improved work of the screen reader text from the screen;
3. Improved the stability of the game client, as well as fixed crashes;
4. Fixed a bug that occurred when opening the achievements screen;
5. Fixed game ticks, crops, and seedlings that can grow again without any glitches and delays;
6. Fixed a bug due to which previously the tool could not be moved after use;
7. Fixed textures of dried seaweed;
8. Fixed a bug due to which snow and ice were generated in straight lines;
9. Fixed TNT triggering action under water;
10. Fixed translation of achievements;
11. Fixed display of awards for achievements;
12. Fixed display of character skins in offline mode;
13. Updated all links to the feedback site and to the bug tracker;
14. Fixed flickering when resizing the window.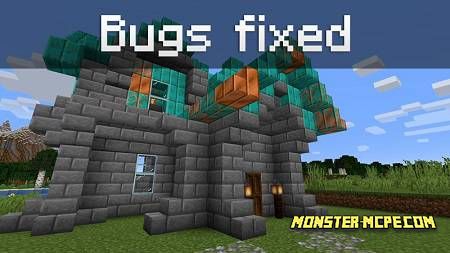 And the last are several bug fixes that relate to the technical aspects of the game. In total, 9 such bugs were fixed, the most significant are listed below:
1. Fixed a map called Dragons on the Marketplace. After reloading the map, the behavior pack is no longer disabled;
2. From now on loading entities in the user settings of the biome is disabled;
3. And a few other changes related to the creation of addons.
Minecraft PE 1.16.210.58 for Android