Minecraft PE 1.16.20.52 for Android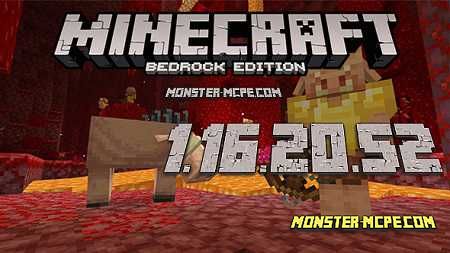 Greetings to all fans of the Minecraft world. Already yesterday, a
new update
for Minecraft Pocket Edition was released, namely Minecraft Pocket Edition 1.16.20.52 — its a new Nether Update. The new update is already available to all Android users, we also draw your attention to the fact that the new version of
Minecraft PE 1.16.20.52
still with working Xbox-Live. In the new Nether Update, various changes are waiting for you, such as a new type of mobs, bastions of creatures like Piglins, various small changes, and improvements, as well as improvements to the gameplay.
What's New in Nether Update MCPE 1.16.20.52?
On July 13, the developers of the Mojang studio released the next new Minecraft 1.16.20.52 update which adds new changes to the Nether world. In the new version of the game, new changes that will even more interest fans of the Minecraft world. A new type of Piglin improved gameplay and many other minor features.
Let's look at the new version in more detail.
The first thing we will draw your attention to is a new type of Piglin that you could already read about somewhere, or hear from your friends. In the new version of Minecraft PE 1.16.20.52, players can meet such creatures as the Piglin Brute on their way to the Nether world. Considering that this type of piglin is distinguished by its indifference to gold in the player's hands or on it, it can be called cruel, as it is ready to kill its opponent, although it may not have intended to attack or rob the relatives of this mob. This Piglin is not cruel to other Piglins, only to the player.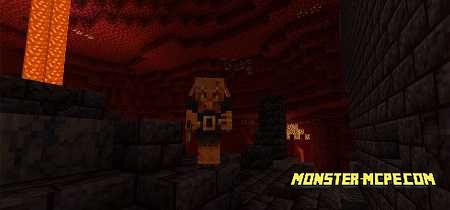 Do not confuse with Brutal Piglin since the behavior of this mob is more like Hoglin. This Piglin behaves in the same civilized manner as his relatives. These mobs can be classified as subspecies of the Piglin creatures.
It can already be said for certain that these creatures are the most significant characters in the Nether world. After the Mojang developers replaced Zombie Pigman with new creatures, some new gameplay features were added. The most interesting is the exchange of goods with players, which allows players to get a fireproof potion or something else useful for a gold bar. But everything is not as simple as we would like. The developers of the Mojang studio decided to complicate this process by adding to the Nether world of such creatures as the Cruel Piglin.
These creatures are stronger than their relatives and more aggressive, regardless of whether you want to attack him or not, if he sees you he will attack first. These creatures ignore gold and everything related to it and also use axes to attack. Using this type of weapon, Cruel Piglins can inflict a lot of damage to players. Be careful!
The next thing we will focus your attention on is to say the Base of those same Cruel Piglin. This place is called Bastion. This is a place where players can meet these dangerous and hostile creatures without using any additional commands. In a place like Bastion Remnant, players can find useful material like Blackstone, as well as various treasures that are hidden inside.
And again we warn you that inside you are waiting for such creatures as the Piglins who will be very hostile to the player. They will immediately attack you if you will loot the chests or will break the golden blocks in front of them. In other words, Bastion Remnant is not a place for beginners, but if you have enough experience and strength, you can try to go in and explore this place.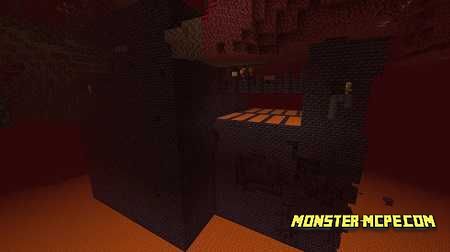 Fixes in Minecraft PE 1.16.20.52
The new Minecraft PE 1.16.20.52 update adds several useful and necessary fixes to Nether World and the update as a whole, among which you will find:
1. Improved work with custom skins on Minecraft servers;
2. The correct operation of the systems for checking the availability of goods from the player;
3. Fixed a bug related to the loss of items in the lava that were previously created when using such material as Netherite.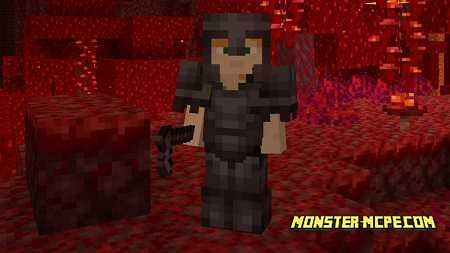 Minecraft PE 1.16.20.52 for Android