Other Death Sounds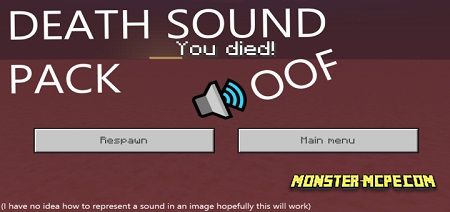 Have you ever thought about the fact that the old sounds of death have already become boring and generally tired of it? Or maybe you want something new and more interesting. If so, then this pack is what you need.
This
pack
will help you change the outdated sound of death to one of the new ones, for example, to the old sound from Minecraft, Roblox or even remove/disable it. You decide.
How does it work?
The first thing a player must do is, of course, install this pack/import it into the game. Set the appropriate sound that you previously selected. See the image below:


Attention, this pack, or rather its sounds will be available in any Realm or the world, with the exception of those Realms and worlds where there are already changed sounds of death.
Attention: a bug with switching sounds due to changes in update 1.13 is possible.

If you suddenly encounter a similar problem, all you need to do is just deactivate this pack and close Settings. After that, the game reloads all its resources.
See the image below:

If this window does not appear (below in the image), try restarting again:
After that, you need to do the opposite, activate the pack and change the Settings. After that, the player can close the settings window and enjoy new sounds.
If all of the above does not help, then just restart the game as a whole, it always helps and resolves all issues.
IMPORTANT: If the player has an old version of the pack, just import and deletes the previous version. The game itself must swap them if not, do it manually.