UIPack Resource Pack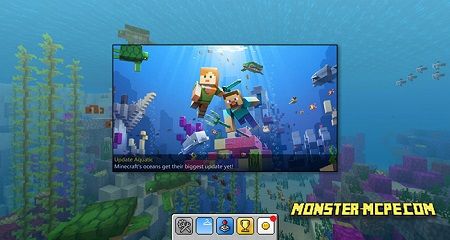 New more simple, clean interface with better design, all these was added to
UIPack
! Here was added more new icons for better navigation in-game menu, which is makes it pretty easy and comfortable. Changed most part of UI window of settings and start screen. Note that this version can have some little issues, as it s a beta version. In general, new UI is completely functional and will be a very good add for your game.
What was changed?
User interface got the biggest changes, it gives you opportunity to get access to any in-game menu faster. The main aim is to provide better, modified and more convenient UI for players.
Follow the link below and explore more new adds of this UI which you can add to your game.
New and better UI is also represented for Aquatic Update. Idea for creation of this pack was taken from IOS/Mac user interface. Below you can see examples of how it looks like.
Recommendation
In case if version (18A109D) will not work with 1.6 and 1.7, use 18A109D-V2, it s another version which is supporting new version.