Chain Link Fence Texture Pack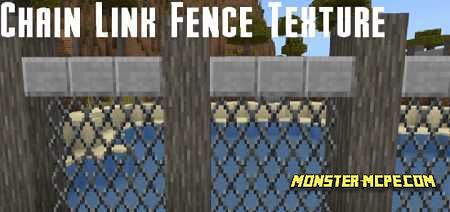 Are you satisfied with the fence in the Minecraft world, or rather the iron bars? If not and you would like something new, then the new texture pack is exactly what you need. The new
texture pack
adds new textures to the Minecraft world by changing old block textures to new ones, as a result, you will get new improved and more accurate blocks in the form of a fence with links. This is a useful pack as you can use new block textures for your maps, or simply to decorate the territory of a house, zoo, or farm.
The new pack of textures will appeal to those who would like to update the old look of old iron rods with new ones, as well as those who no longer like them. New textures give new life to this block replacing old textures with new ones, more interesting and functional. As mentioned earlier, players can use the updated block with links in order to decorate a specific area of a house, zoo, farm, or some other area of your choice during construction.
Below you can see how it looks in the game, for example:
1. At the zoo:
2. On the farm:
3. The boundaries of your map:
And for other purposes, at your discretion.
Chain Link Fence Texture Pack