Huge Coral Biome At Spawn: 1231215285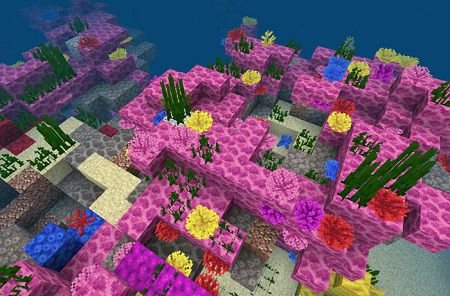 This seed is your new opportunity to discover new landscapes in the ocean of the world Minecraft PE! When you dive deep into the pond, you can see something amazing. Dozens and hundreds of coral blocks, which now adorn the bottom of a deep pond.
In this seed we managed to find the largest coral reef in the entire Minecraft Bedrock universe, today it is the best coral reef in the game.
To maximize the pleasure of underwater travel, we advise you to use two potions, which we will discuss below.
How to see corals in Minecraft PE?
Take the Potion of Water Breathing to enjoy the underwater landscapes from the corals as long as possible. Potion of Night Vision also helps you to clearly observe all the features of the new marine plants of different colors. This is an unforgettable sight!
Turn around at the spawn point and a huge ocean opens before you. Do not wait, dive deeper and you will be pleasantly surprised by a coral reef of incredible size.
Seed ID
-1231215285
Huge Coral Biome At Spawn: 1231215285