Shipwreck On Dry Land: 244885508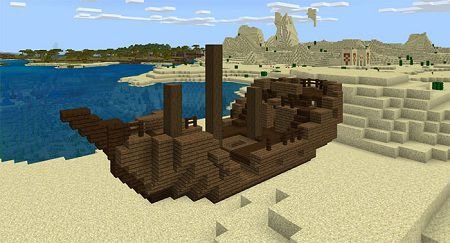 Do you want to start a new unusual survival in Minecraft PE right now? Then try this seed! With it, you will be transported to an amazing area, where your character will appear on a small island, and before you will be a massive coral reef.
Indeed, all this is very interesting, but there is something more exciting in this seed. Now we will talk about it!
Turn to the right and there you can see the sunken ship. A large wooden structure is located right next to the tree. When you find out a drowned ship, you will find a new structure there. In a deserted temple treasures are hidden.
This is an extremely useful and useful seed for everyone to start an adventure in MCPE right here.
How to find a shipwreck?
When you first appeared in the new territory, you need to turn to the right side, and you will immediately notice the outlines of the sunken ship, which has long been near the sandy shore.
Inside this ship for your character there is at least one chest. You can see that there are sheets of paper, books and a treasure map!
Walk a little further and you will find a deserted temple, but here there is always something interesting!
Do everything according to the standard scheme: break the colored blocks and get valuable items from the chests. Excellent spoil at the start of survival!
Seed ID
-244885508
Shipwreck On Dry Land: 244885508