Rocket Lanchers, Landmines and Miniguns! Add-on 1.14+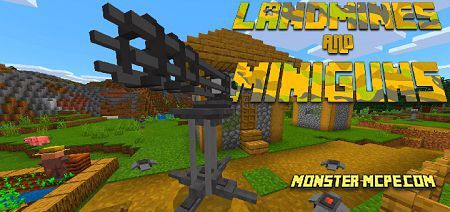 A crazy
addon
that adds new crushing weapons to the game, namely Rocket Launcher, Landmine, and Minigun. This wonderful addon will be interesting to absolutely all players, all fans who love to shoot and blow something up!
Go to the nearest weaponsmith and take everything you need for this, namely emeralds.
Let's consider with you what a new weapon is:
1. Landmine
This item looks like a switch that blinks before it explodes. The mine will blink red, after being placed on the ground, the player has only 5 seconds to run away. At the end of this time, it will explode breaking blocks underneath. We advise you not to place them near your buildings. Their damage is similar to the damage of a charged creeper.
There is also a simpler type of mines, it does not destroy blocks beneath and around itself, is a simpler version, and will blink yellow.
2. Rocket Launcher
A very serious weapon that can hit any targets. Just place in the indicated place and no hostile mob will pass. Use with extreme caution, as this weapon is capable of breaking blocks when erased.
3. Minigun
The same powerful weapon, just place it in the indicated place. They can hit any mobs. Unlike the Rocket Launcher, they don't leave holes, and if they were broken, you can just pick it up and put it again.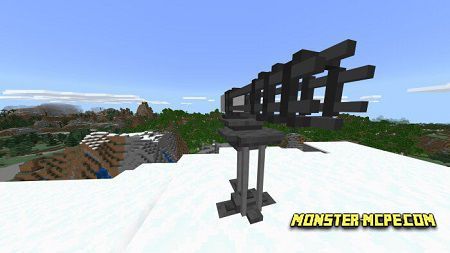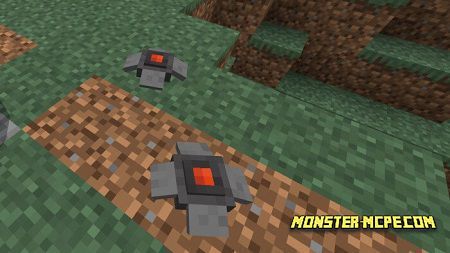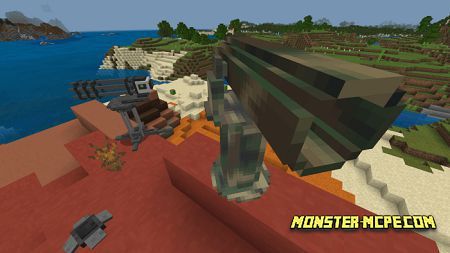 Rocket Lanchers, Landmines and Miniguns! Add-on 1.14+