HAWKS! Add-on 1.13/1.12+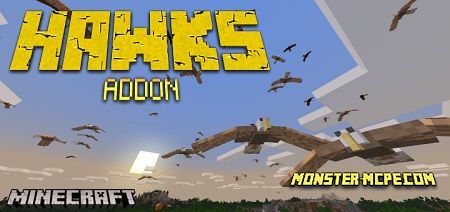 So, your last calm days have come, when you could travel the world of
Minecraft
under the open sky. But we are sure you will like it! It's about
hawks
, these birds will surely terrify you. Many players, both experienced and novices, sometimes something is missing during the day in the world of Minecraft, namely some dangerous enemies, especially from the air! Here you have the solution to this problem, hawks!
This bird is hostile to the player. Basically, they spawn on steep hills, but will also be visible to the player on the plains. This animal is extremely negative towards players and pillagers.
Also, hawks hate llamas, as they can help you if one of the birds attacks you. Therefore, we recommend traveling with lamas.
In addition to hawks, there are other dangerous types of birds, larger ones. But as you understand, with smaller birds a player can cope more easily. Darker birds will be more challenging rivals.
But there is another type of bird that a player can meet in the world of Minecraft, these are Crows! This bird can meet in the swamp biome, exactly where the least light. In addition to the swamp biome, you can meet them in the plains or taiga biomes.