Not Hungry Addon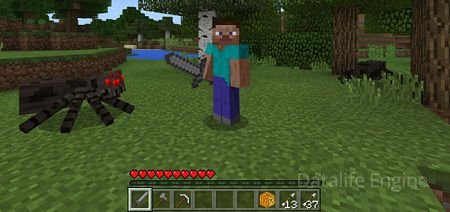 Minecraft PE players can now not worry about that their character can feel worse due to a phenomenon like hunger. The Not Hungry Addon is a new solution that allows you to completely get rid of hunger in the game universe. Especially this mod will help those to whom survival may seem too complicated. A great addition, we recommend you try it!

Undoubtedly, quite a few Minecraft players would like to not pay attention to the hunger bar, as this takes time and complicates the game mode in Survival mode. This add-on forever eliminates the need to search for food for the game character. Thus, you can fully devote your playing time to exciting adventures without unnecessary actions related to finding food.
How it works?
Not Hungry Addon will help you increase the saturation effect when you play Survival mode. Including, when you are attacked by an aggressive mob, your character will be saturated, and this will protect him from starvation.
It's pretty simple. You can download this mod for free at the link below. Prepare for new adventures without hunger in Minecraft Pocket Edition!