Optifine PE for Minecraft Bedrock Edition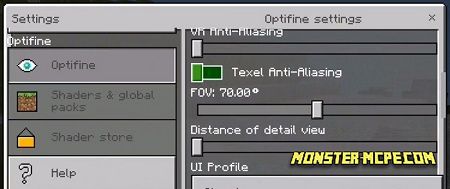 This
addon
will help you to increase your FPS on tablet, phone or even on PC. Also, this PE version can reduce your lags in game due to available options. It can help those players who play with low FPS and wanted enjoy his game without any issues.
This addon is not so difficult in use, as you can think (those players who never heard about it or use it). For those who know what is it, you imagine how to use it.
Main features:
Section of "optifine"
Fov

Antialising (also, texel and VR)

On/Off

Section of UI

Detailed view

Framerate — maximum

Particle render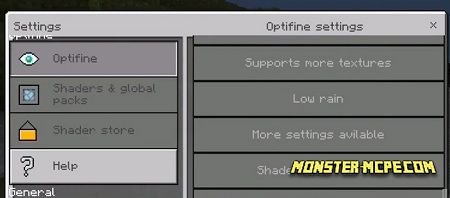 Pack and shaders
Usual grass

Support more of textures

Rain is low

Available more settings

Optimization of shaders
Store of shadersTab "Help"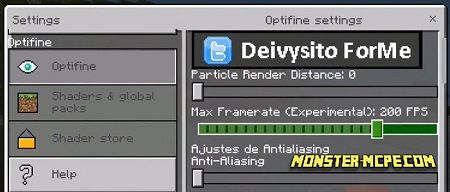 In these ways you can set up your device for decrease consumption of resources. Note, that it is not all the list of available settings, some of them are not available for other textures and shader pack in Minecraft PE.
All this in general helps you to reduce lags and increase your FPS.
Optifine PE for Minecraft Bedrock Edition