The Aether Trident Addon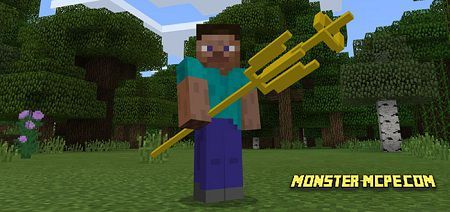 This
mod
gives you a new rare and really godness item! Player become one of the most dangerous and powerfull objects in MCPE world. Item adds new useful abilities, such as increasing speed and increasing amount of health. It makes you godlike, because nobody will be able to defeat you while you have it. Do not lose item, because if you do, your power will gone.
Description of gaming process:
There are 2 styles of packs: each of them separately influence on you. When you will use this item, note that you will have different set of power and skills.
Hold it, in order to get powerful abilities of aether trident.
Updated style of trident:
Night vision

Jump boost-(nine)

Resistance- (three)

Regeneration-(three)

Speed- (three)

Previous style of trident:

No damage from falling

Movement speed increased in 2 times

Without gravity

Can support all languages

Double health