Airdrop Add-on 1.16+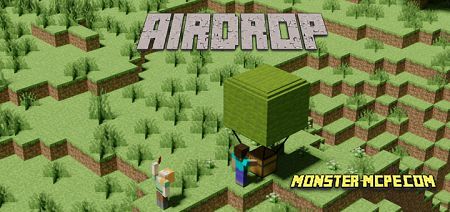 Have you ever played the game PUBG mobile or just PUBG for PC? If so, then you probably know what an airdrop is. For those who have not played airdrop, a box that drops out of a flying plane automatically after a certain period of time, or with the help of an additional red flare gun. It contains ammo, weapons, equipment, and other items. Players can get this box using a special red flare gun and without the participation of the aircraft.
The new
addon
adds a red flare gun and of course an airdrop to your Minecraft world. Players can craft a flare gun in survival mode and get a crate of useful loot. Use the new addon with new possibilities in your world and diversify the gameplay. Let's see how it works below.
The first thing worth paying attention to is the most important item, namely a red flare gun that players can craft using three Redstone dust, a bow, one iron ingot, and one firework rocket.
Crafting recipe below: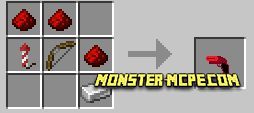 After the players craft a flare gun to use and shoot, press the right mouse button, LT buttons, or if you are using a mobile device, hold down the screen. Your airdrop will spawn in the sky and slowly fall to the ground with a parachute.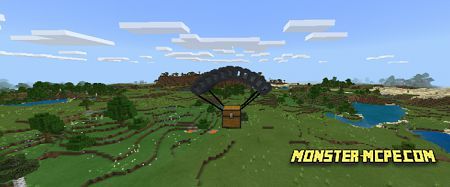 Please note that all airdrop boxes are very fragile and in some cases, when they are knocked down by someone or fall to the ground incorrectly, they can be damaged, which will lead to the fact that you will receive only a part of the drop.
It is important to know that all items that are inside the airdrop are not generated randomly inside, but if players use the addon for Realms or on their servers, then inside the loot can be changed using the armor stand.
How does it work?
Everything is very simple, in order for the player to change the contents inside the chest, it is necessary to place it on the ground and place an armor stand above it. The booth name must be air_loot.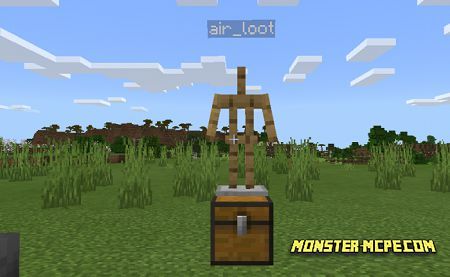 After that, players just need to place on the stand those items that they want to see in one or another airdrop chest.
Having done a similar process several times, diluting the loot with different items, you can make the loot different.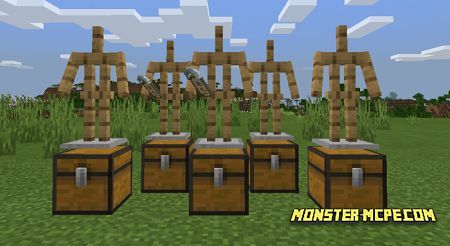 After landing on the ground, the loot in the drop will be a random one of those that you used earlier to fill the chest with it.