More Pets Add-on 1.16+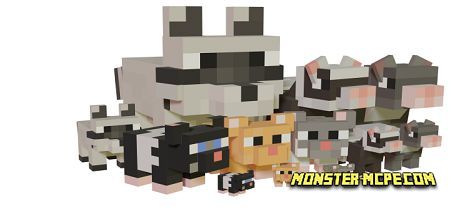 Would you like to add more pets to your Minecraft world? If yes and you really love animals, then the new
addon
with
new pets
is what you need. In addition to pets, a new item will also be added to the game. In the future, this addon will be updated and add more interesting textures, models, and pets. Let's take a look at the new pets that will be added to the game.
New pets:
1. The first is small and cute raccoons. Players can tame raccoons using raw beef or cooked. Below you can see how these animals look in the game:
2. The second pet is the same cute hamsters. These animals spawn all over the Minecraft world in groups of two or more. Players can use any seeds to tame them. Sunflower seeds have been added to the game so that you can tame hamsters. In general, hamsters will be available in the game in three different colors, namely:
- The black:
- Orange:
- Grey:
Also, frogs will be added which must be used in order for the player to breed raccoons. You can use raw frogs or cooked ones. The frog looks like this:
Also, players can get a drop from a frog:
After you tame any pet, he will follow you everywhere. All new pets have additional animations and can also sit.