Ultra-Light Helicopter Add-on 1.16+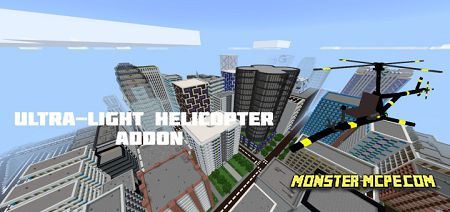 Would you like to comfortably and quickly navigate the world of Minecraft? If so, then the new helicopter is exactly what you need. Unlike many other addons that add helicopters to the game, this
addon
adds a unique type of helicopter with a lightweight body, ultralight and allows you to see more than sitting in any other helicopter. These are new unique helicopters that you will definitely like. Let's take a look at the features of this addon.
As mentioned earlier, a new unique helicopter will be added to the Minecraft world, which will allow players to travel around the Minecraft world with ease and comfort. It has an ultralight frame, main rotor, tilt animation, and other parts.
Sit at the helm of your helicopter and you will see a new animation. It is very easy to sit at the helm of your helicopter, for this on the PC version of the game, players need to click on it near the right mouse button, and on mobile devices, come closer and press the Fly button.
Controlling the helicopter is also easy, just press the buttons in the direction you want to fly, the up and down buttons allow your helicopter to fly up or land on the ground. Other buttons allow your helicopter to move in a designated direction. When walking forward, your helicopter accelerates.
The recipe for crafting a spawn egg for a new helicopter:
Besides the spawn egg, players can also use the special command / summon, followed by the text c: ultralighthelicopter. Screenshot below:
Below you can see what this helicopter looks like in the Minecraft world:
Please note that in order for the addon to work correctly, you must use both packs, namely the resource and behavior pack.
Ultra-Light Helicopter Add-on 1.16+