Christmas Decorations Add-on 1.16+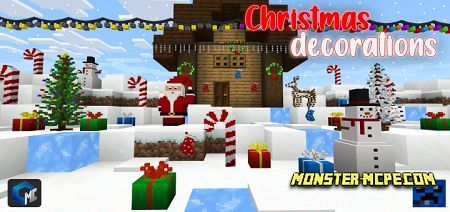 Very soon we will all be celebrating the Christmas holidays, and there is something that helps us to fully experience the Christmas mood right now, namely the Christmas tree, garlands, and many other decorations. All this and much more can be added to your Minecraft world by a new
addon
called
Christmas Decorations
. Beautiful Christmas blocks allow players to decorate their home or any other place on your map. Let's take a look below which Christmas blocks will be added to your Minecraft world.
New Christmas Blocks:
1. Gifts: In order for the player to receive this block, it is necessary to destroy it;
2. Christmas Tree: Two different Christmas tree blocks will be added to the game, namely the White and Green tree. Also, the Christmas tree has a specific feature, namely sounds and lighting. In order for the player to turn on and off the garland, press the right mouse button;
3. Deer: This is a decorative block that can also light up;
4. Christmas wreath.
In order for the player to get all the new Christmas blocks, use the special command: /function followed by the text christmas_decorations!
In addition to commands, players can use special crafting recipes that you will see below.
Please note that you need to activate the Experimental game mode!
Christmas Decorations Add-on 1.16+