Brushes and Archaeology Concept Add-on 1.16.40/1.16+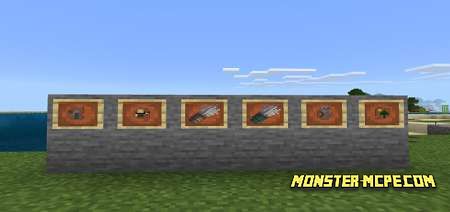 After the recent announcement of the upcoming
Minecraft 1.17 update
, which was presented at Minecraft Live 2020 by the developers of the Mojang studio, many players began to pay more and more attention to this topic. Now many players and developers of add-ons and maps have begun to develop and create new content that will delight many players who are looking forward to the update that will be available to us in the summer of 2021. That is why we present you with a new
addon
called
Brushes and Archeology
. This is an interesting addon that allows players to enjoy the game and the upcoming archeology system in the Minecraft world.
From the name you might have already guessed that here you cannot do without such an item as a brush. This is a useful item, especially in this addon, as this item will give players the opportunity to get other more useful items. There will be two brushes available in the game, one blue and one plain orange. Their functions and purpose are the same, but they differ only in the crafting recipe.
For example, for orange you need two strings and one copper ingot, and for blue two strings and a shard of prismarine. Crafting recipes below:
In addition to brushes, new materials such as Copper will also be added to the game. At the moment, there is no exact task for copper, but you can still mine this ore from the ground for research and experience. Under the ground, players can mine copper by finding copper ore. This ore is generated quite well, so you will not have problems with the search. After collecting the amount of copper ore you need, you can melt it in the furnace, for this, put it inside and add fuel and you will get copper ingots.
How does it work?
In order to understand how everything works here, you do not need to apply a lot of effort, everything is quite simple. Players need to find underground materials such as gravel and dirt scraps. Don't worry, it won't be so difficult for you to confuse the new materials with the old ones, namely simple dirt and gravel. The point is that you cannot mine gravel or dirt using even the best tools, in which case it will mean that these are scrap blocks.
We also draw your attention to the fact that there is one great way to get scrap blocks, namely TNT! Yes, thanks to the unique properties of resistance to explosions, players will be able to use explosives and find these resources with ease. After you have found this block, use a brush on it, after which the block will break and you will get some random item that will drop to the ground.
Below you can see the items that scrap blocks can drop after using the brush:
Among these items, new items will be added to the game, one of which is the Ceramic Shard. This material is available to players in five different types. Each of them has a different look. At the moment, players can only use them as decoration.
Besides Ceramics, players can also use copper. How? Players can craft copper blocks. This block consists of four levels. Each state is a specific state of the block.
Warning:
Use Experimental game mode!
Brushes and Archaeology Concept Add-on 1.16.40/1.16+