Warden Concept Add-on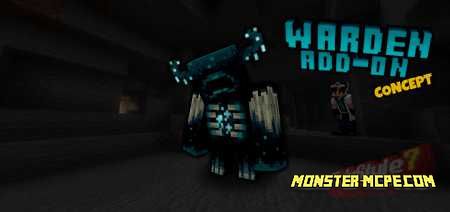 Would you like to add a new mob to the Minecraft world? If yes then the new
addon
is what you need! The new addon adds a new mob that was presented at Minecraft Live 2020. This addon will be interesting to those who do not want to wait until the Summer of 2021 because it is then that Mojang will add a new hostile creature of the caves to the Minecraft world. As you already understood, we are talking about a creature like the Warden.
This mob will inhabit deep and dark caves. He will be blind, but with good hearing, so be quiet and careful, because if he overtakes you, he can kill. When you meet this mob, run, or if you like such challenges and battles then take this fight. Let's now take a closer look at this mob.
As mentioned earlier, the hostile Warden lives in deep and dark caves, it will not be difficult for you to find it, since it is not small, looks like a minotaur, and has a unique animation of the heart and horns. The horns and heart glow in the dark, below you will see exactly how it looks in the game.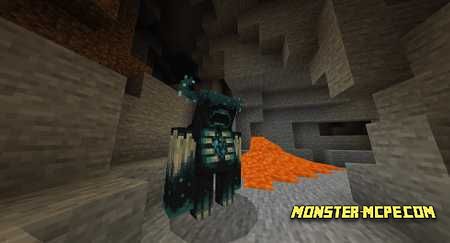 Please note that this mob is strong enough. In your world, this mob will have 75 health points (how much it will be at the time of release is still unknown). As mentioned earlier, he is blind, so when you see him, be quiet and keep a distance of 3 or 4 blocks. If he finds you, you will hear his roar.